Virginia Lauren – For me it was the right decision and I am still happy with that decision today
As a young teenager I became tired of being seen just as the pretty girl next door with blonde hair and green eyes, raised with 4 older brothers and surrounded by a sense of masculinity I rebelled against my "exterior worth". At 17 I got my first tattoo from my brothers' friend that owned a local tattoo shop. Fueled by comments like "your too pretty to have tattoos" I begin to add more pieces. By the time I turned 18 I had already had started a ¾ sleeve on my arm. Even though it was common for men to have tattoos in my ultra-liberal town, it still wasn't widely acceptable for women, especially attractive women.
I began modeling at 20 years old when another model called in sick for a paid photo shoot. I was instructed to wear a jacket to cover up my artwork. I immediately loved the creative experience that modeling had brought to me, but was frustrated that my tattoos were not allowed to be visible during shoots. At that time there were not many tattooed models. I immediately began searching online to see if there were opportunities for tattooed models in the industry. Disappointed with the lack of agencies, or general acceptance of tattooed models, I stumbled upon the Suicide Girls website. With less than 100 girls on their site I had submitted some amateur photos and a short bio, chose a pseudo-name, and was accepted as one of the first 100 suicide girls.
I could see the growing demand for tattooed models as my opportunities grew into music videos, clothing and jewelry campaigns, music magazines and an album cover for Sony. As I began studying for my Masters degree in Psychology, my focus on modeling became a conflict with my potential career. I quit modeling and settled down with the love of my life to start a family. The energy I had previously put behind my modeling career became channeled into a new love, Roller Derby.
I Spent 5 years coaching and playing roller derby under the nickname Heather Headlocklear for a nationally ranked, outstanding group of skaters. Currently my time is spread very thin, between being a business owner in the construction trades, wife, and mother of two young girls. Returning to modeling in the last year has provided much needed stress relief and fun. At 34 years old, I find it to be an entirely new industry where tattooed models are now the norm and social media has dramatically changed the climate. I currently consider myself a new model and pride myself on my natural body and (other than the tattoos) un-altered appearance.
How would you describe your work, and what is your main goal with your work as a model? My work as a model is primarily a fun way for me to have a creative outlet. I am challenged by coming up with new ideas, themes or poses. I like to help create the overall feel of the photos and view it as a collabaration with the photographer. My main goal as a model is always changing, sometimes its to get into a certain magazine, other times its to achieve a certain feel in a photograph or create a specific theme.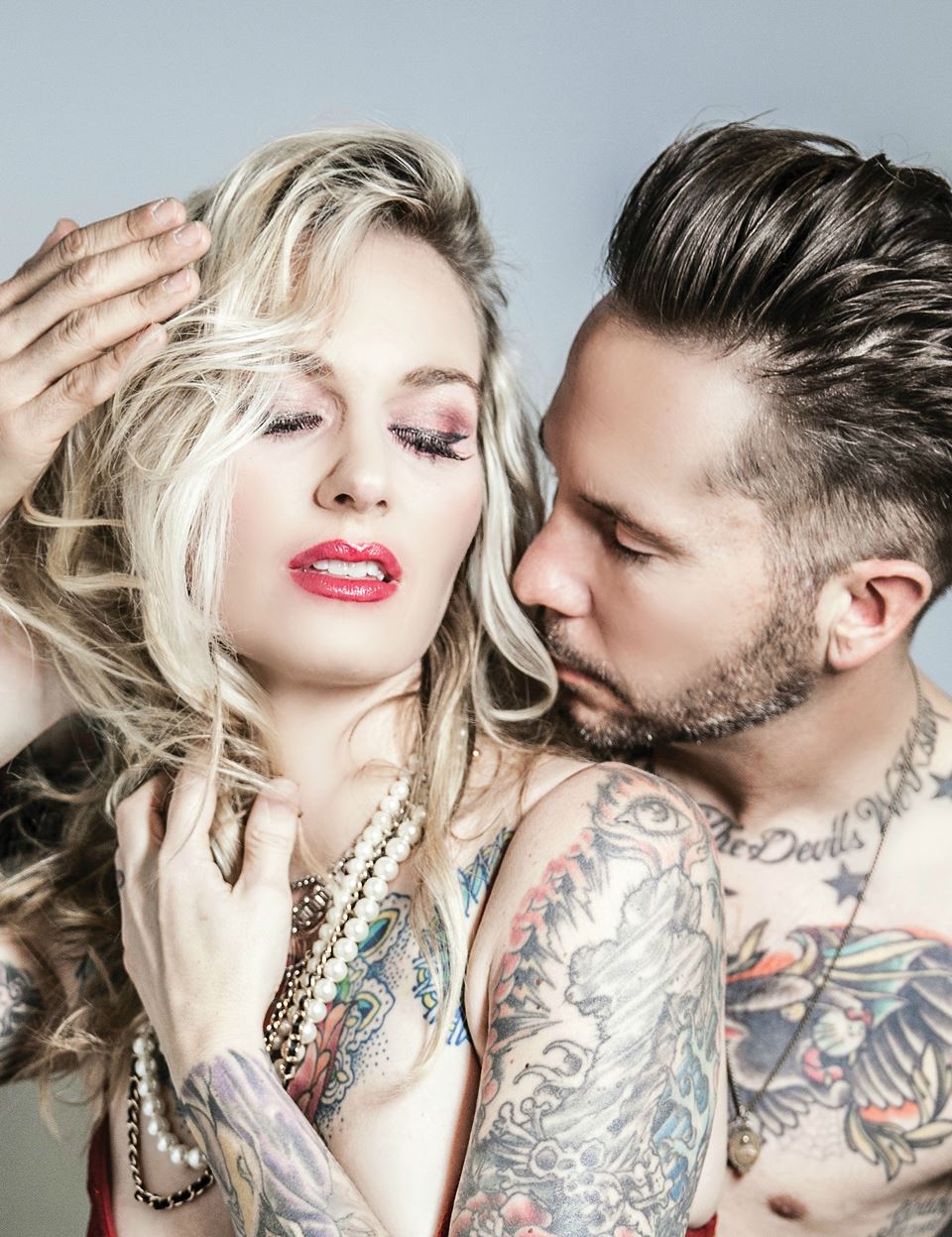 What are your plans for the future, are there any new and exciting projects you would like to share with us? My plans for the future with modeling involve gaining more experience by branching out and shooting with a variety of photographers in a variety of styles. I am always excited to have opportunities open for me and at this point I am just planning to see how far I can take this thing while still being relaxed about my approach. I am happy to just be a 34 year old mother who still feels beautiful enough to get published in a magazine.
Tell us about the most valuable moment in your modelling career. My most valuable moment in my modeling career was when I realized that I could take it seriously as a business if I wanted to go down that path. I reached a point in my career at 21 when I was making money, had casting offers, and had well exceeded all my expectations -I was on the brink. I made the decision to go an entirely different direction at this point instead of take my modeling career further.
For me it was the right decision and I am still happy with that decision today. I would do the same thing again in a heartbeat. I just don't like vegetables and working out all that much;0. I am really not that great at taking care of my appearance (ironically enough) and I am one of those roll out of bed people most days of the week. My nails are always chipped and sometimes I just wear a hat instead of washing or brushing my hair. I have blow dryed my hair maybe twice in the last 10 years.
— Virginia Lauren