It is hard to put into words how fucking awesome this platter is
Evergrey return with their eleventh Album completing the "Hymns of the Broken" trilogy these Swedish maestros have pulled out all the stops with "The Atlantic".
This five-piece consisting of Tom S. Englund (Vocals, Guitars), Henrik Danhage (Guitars), Rikard Zander (Keyboards), Johan Niemann (Bass) and Jonas Ekdahl (Drums) have produced a whirlwind of Progressive Metal delights and no so more than on the huge and gigantic opening track "A Silent Arc" a song that testifies to the depth and human emotions contained here in this opus.
This track is will surprise you and has you double taking and checking you are listening to Evergrey and not some Death Metal Band!
As the guys unleash a full blown barrage of brutality as this opens up to the emotional waves that you are about to experience within this killer release.
"A Silent Arc" is the first single and has already been released with an atmospheric video to accompany it, this is one track I have spent hours listening to and floating along with different sentiments as you watch and take in the film and this magnificent work of art.
"Weightless" follows, it's a huge slab of vibrant Progressive Metal that's going to be lapped up and adored by the Evergrey faithful as the guys take you through the many feelings we have to deal with in this roller-coaster called life, this track hits home for me in so many ways, and its been a real struggle if I am honest to get past the opening two tracks on this opus.
But as you continue to delve into this release the more transfixed and addicted you will get as tracks like "All I Have" which is simply stunning and has the hairs on the back of your neck standing up as Englund's soul ful tones combined with the sumptuous heavy Bass lines and pounding Drums ensnare as the Guitar solo washes over you and takes one on a haunting voyage of magical moments.
Then the enflamed "A Secret Atlantis" takes the listener on a different course as the tempo is heavier and deeply dark and brooding.

Love "The Tidal" as sea mammals make their calls and the keyboards have you floating on calm waters then the next two tracks "End of Silence" and "Currents" have you delving and reflecting on this life as we enter despair and face rejuvenation and continue to fight and not drown in the choppy waters of being here.
The beautiful "Departure" is simply amazing as you stare deep into the depths, this song combines Piano and an acoustic guitar as Englund's Vocals continue to prick and send shivers through your conscience.
Penultimate track "The Beacon" continues to take you on an emotional trip as the storms and winds rock your world as we are led into the final track "This Ocean" a fitting end to a full blown masterpiece I won't even describe this track just make sure you have it on damn loud as the tsunami of emotions crashes into the room.
To say this Album is the full package is an understatement it has everything from the ten tracks to the outstanding artwork, is this one of the Best Progressive Metal releases you will ever hear?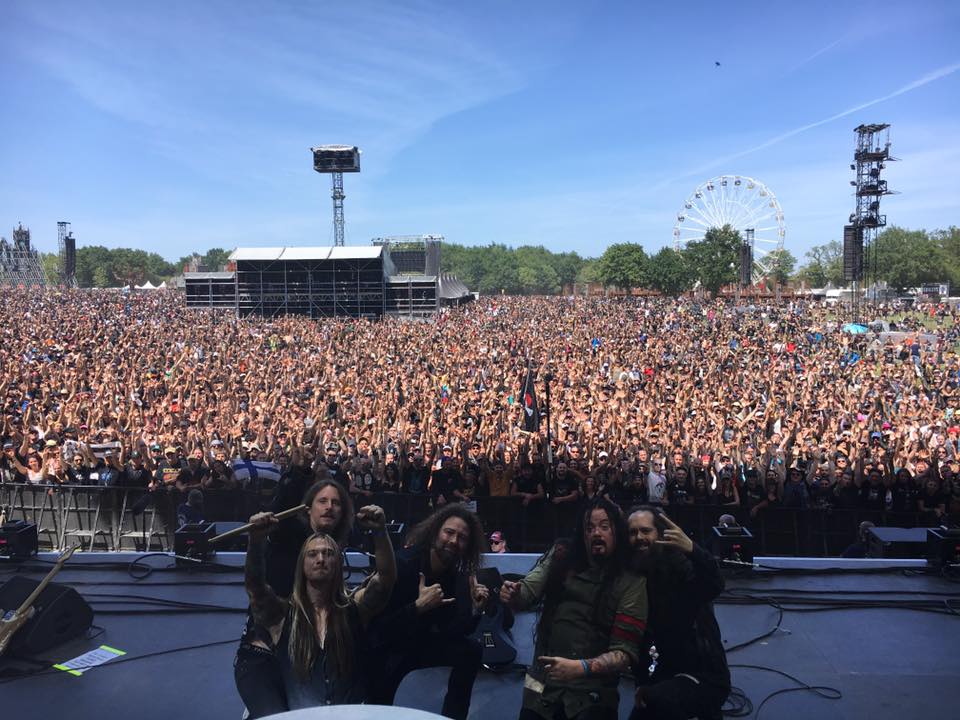 I think so! It is hard to put into words how fucking awesome this platter is the immense power the band put into each moment is only equaled by the transcendent compositions that the band has lovingly worked on, as each track is unleashed, the more you will fall in love with "The Atlantic"
Review by Seb Di Gatto – Score 10/10
TRACK LISTING
01. A Silent Arc
02. Weightless
03. All I Have
04. A Secret Atlantis
05. The Tidal
06. End of Silence
07. Currents
08. Departure
09. The Beacon
10. This Ocean
EVERGREY LINE-UP
Tom S. Englund – Vocals and guitars
Henrik Danhage – Guitars
Rikard Zander – Keyboards
Johan Niemann – Bass
Jonas Ekdhal – Drums
EVERGREY OFFICIAL