The terrifically titled Terrifier brings their thrash metal apocalypse straight outta Vancouver BC
The terrifically titled Terrifier brings their thrash metal apocalypse straight outta Vancouver BC.
As the Metal God himself Rob Halford memorably sang: "fast and furious/we ride the universe", that very much sums up Terrifier's dedication to the glory of thrash!
Originally known as Skullhammer, Terrifier released their debut album "Destroyers of the Faith" back in 2012 and Metal Or Death EP in 2013, so this is no flash-in-the-pan thrash band!
Incorporating jackhammer drums, bulldozing bass-lines, a twin-lead attack that leaves posers pulped in its wake, and vocals that can level mountains, Terrifier's motto could well be "thrashing is our business… and business is good".
Terrifier take what has gone before, the old gods, Metallica, Slayer, and use them to birth new sounds, the old gods are eternal but hail the new gods too!
Vocalist, bassist and founder member Chase Thibodeau explains Terrifier's reason for being. "We formed this band because we love thrash and play what we think sounds cool… our music is fast, technical, heavy and melodic and shredding." Indeed, this is a band that truly puts the shred inside your head!
It's their inspirations that drive them to create such perspiration-inducing music as Chase explains: 'Adrenaline, speed and aggression….that's the feeling we want to put into people. We started steering more towards an aggressive thrash sound…even being influenced by death metal!'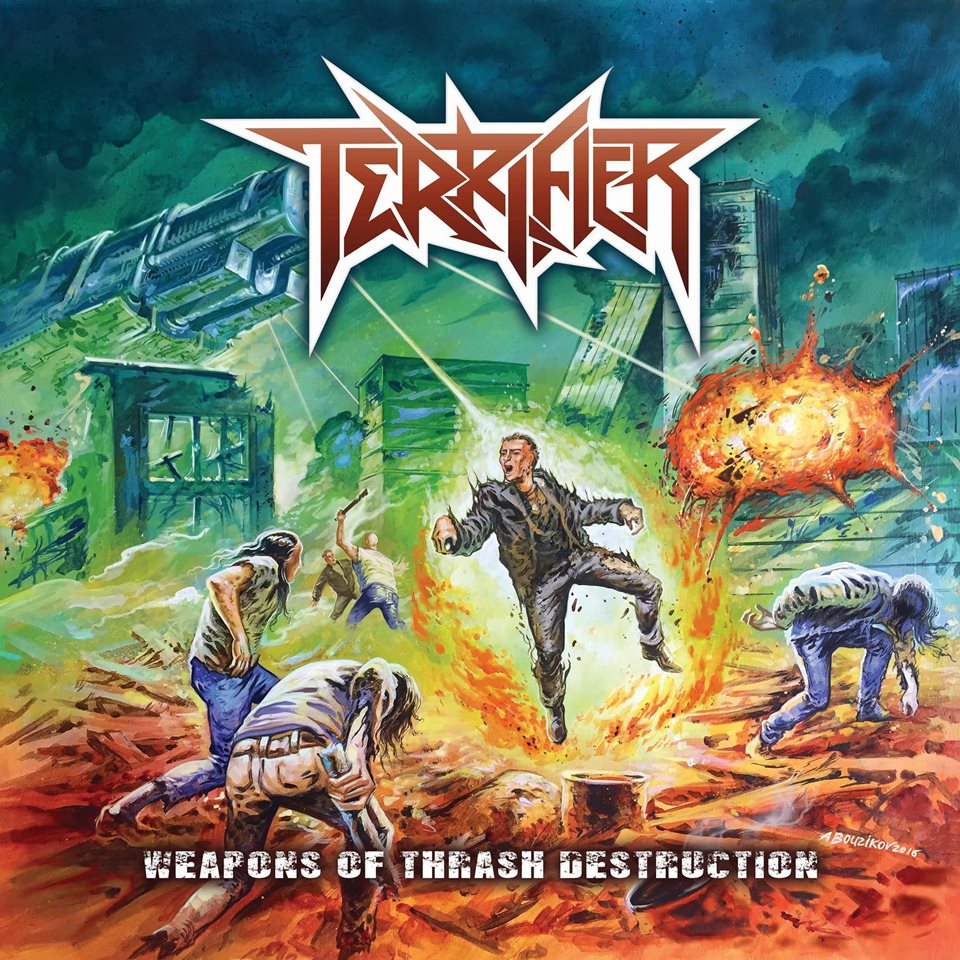 Their new release "Weapons of Thrash Destruction" features such soon to be classics as "Bestial Tyranny", "Skitzoid Embolism" and "Nuclear Demolisher" and "Sect of the Serpent", a song inspired by Conan the Barbarian as Chase says "the idea was to trample the weak and hurdle the dead on this one!"
Chase sums up Terrifier's new music: "We think people will enjoy this album and use our music to get pumped up for whatever life throws at them. It would be our honour to inspire others into thrash metal. The world needs more thrash."
Terrifier's new album "Weapons of Thrash Destruction" is slated for release on January, 20 2017 via Test Your Metal Records.