The Three Tremors nourish in heavy metal anthems
THE THREE TREMORS release 'Invaders Of The Sky' single and lyric video, taken from their storming new self titled debut album which is set for release on 18th January.
The Three Tremors nourish in heavy metal anthems, and feature the illustrious chops of guitarist Dave "Conan" Garcia, whose tenacity fuels the fire, allowing the music to naturally flow in complimentary tone.
Second guitarist Casey "The Sentinel" Trask picks up the pace and really pushes the boundaries alongside bassist Alex Pickard, who highlights a melodic sensibility giving character to the overall tonality. On drums, the thrash machine Sean Elg adds in his perfectly placed fills and signature double bass patterns.
The Three Tremors self-titled debut highlights artwork ingeniously created by renowned artist Marc Sasso (Dio, Halford, Adrenaline Mob, Death Dealer, Cage), to showcase an apocalyptic battle between demonic hyper-wolves and the Three Tremors, who marched into an underworld overshadowed by evil forces only armed with bullets powered by heavy metal sorcery to reclaim the dystopian lands.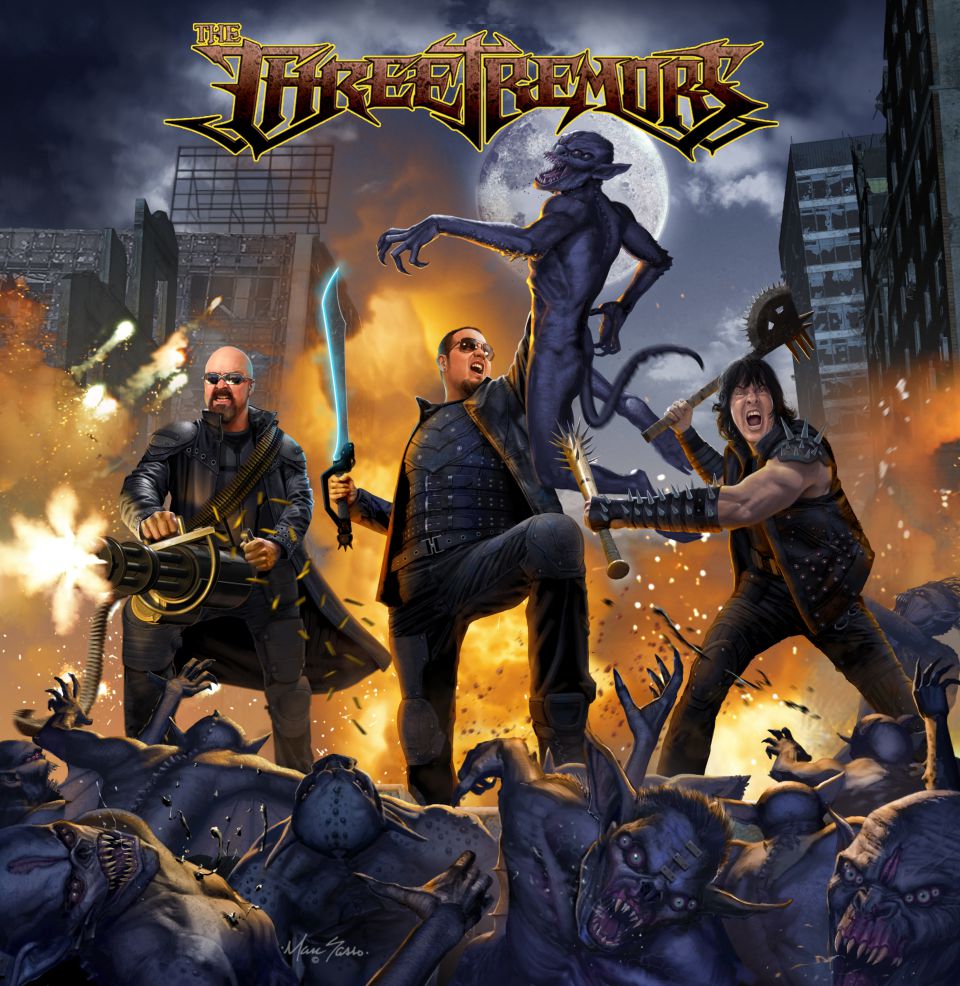 The self-titled debut album will feature 12 new songs that depict monumental stories of time honored heavy metal themes as written by Sean Peck, focusing on original concepts to highlight three of the most revered and relentless voices in heavy metal.
The Three Tremors will court you in to an entirely new atmosphere unlike any group before. Prepare for the most thrilling heavy metal record to date!
THE THREE TREMORS TRACK-LIST
01. Invaders From The Sky
02. Bullets For The Damned
03. When The Last Scream Fades
04. Wrath Of Asgard
05. The Cause
06. King Of The Monsters
07. The Pit Shows No Mercy
08. Sonic Suicide
09. Fly Or Die
10. Lust Of The Blade
11. Speed To Burn
12. The Three Tremors (Bonus Track)
THE THREE TREMORS OFFICIAL
The Three Tremors Facebook | The Three Tremors Twitter | The Three Tremors Official Website