Exclusive interview with Jonny Hetherington, lead singer from Art of Dying
What is your names and what instruments do you guys play? Jonny Hetherington — vocals, Tavis Stanley — guitar, Cale Gontier — bass, Jeff Brown — drums.
Give us a brief history of the bands younger years, how come you guys got interested in music and how did the band form? I met Jeffy in Vancouver after listening through the door of his jam space. We used to jam in the same building and I really actually didn't like the sound of his band, but I thought the drumming was amazing, so Jeff and I met through the local Vancouver music scene. He knew Tavis and Cale from back East (Toronto) and when we were offered a disturbed tour in 2008 we asked them if they wanted to come. It was pretty magical.The first time we ever performed together was live on stage with just a long sound check.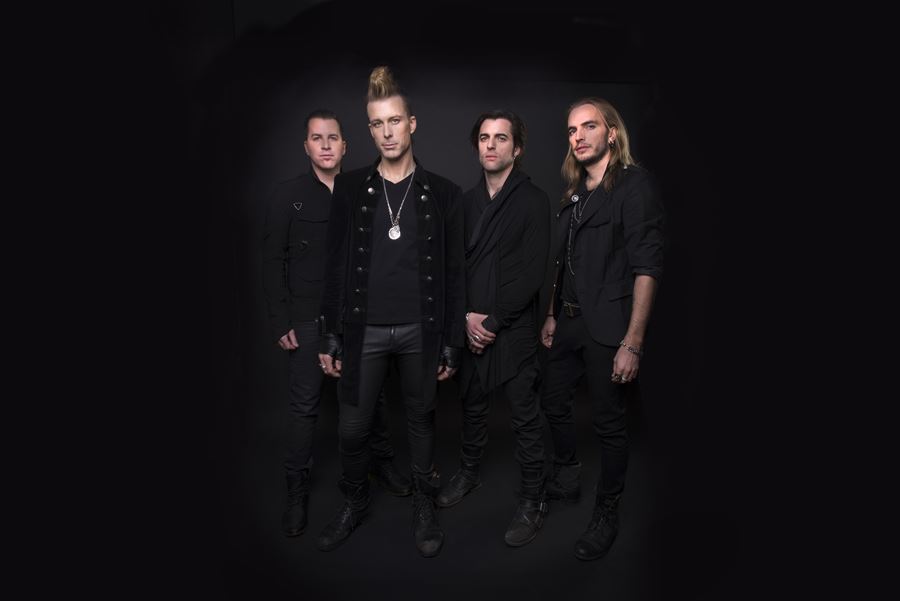 Are you planning a tour? If so, tell us more about that. We hit the road with "Apocalyptica" on May 16 through the end of June currently North America only, but we're adding more dates all time.
Have you been on any European or U.S. tours? If not then when will we get to see you in Europe and the U.S.? We definitely plan on being in Europe very very soon. The label and management that were signed with are very committed and experienced in bringing North American bands over. Label mates like Motley Crue and Five Finger Death Punch have made Europe a focus and we plan to do the same. We get such a great response online from our European fans and we can't wait to see everyone in person!
A desolate island and a boat without gas, oops, Who do you want to be rescued by? Anthony Bordain (The American Food Journalist) would be perfect. We could tour all of the islands and eat some great food, drink some wine and listen to some music.
Tell us about the funniest thing that has happened to you on your gigs or tours? So many great stories, one time when we were on tour with Disturbed, it was the last show of the tour in their hometown of Chicago and we were in Atlantic City earlier on the tour and happened to see these horrible I love Lucy Jean jackets that were cheesy as fuck and on this 90% off rack, so we bought four of them and we walked out on stage and had the guys in Disturbed wear the I Love Lucy jackets for their song The Sickness. David Draiman was a little hard to get into the jacket at first but after getting the crowd involved he had no choice. It was hilarious!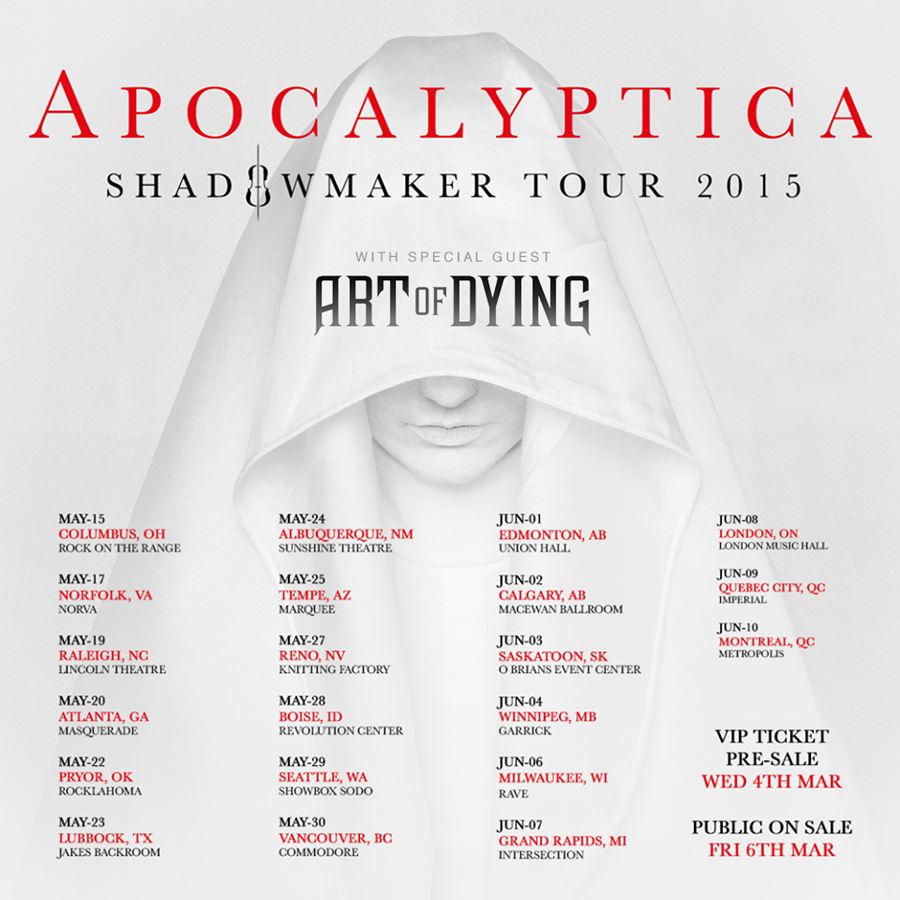 What are you planning for the future? What can we expect from you guys? Rise up, the new single is tearing up YouTube right now. That's our focus for the time being to introduce ourselves to the world again with this Apocalyptica tour and to release the album this summer.
Tell us about your dreams and goals? We're living our dream by playing music. We feel very fortunate to be living that dream. I think our next stop on on the dream path is hitting more people. We want to take our message and our songs to as many people as we possibly can, that includes Europe, South America and places all over the world. The more we can connect with fans the more we are living our dream
Who are your musical and non-musical influences? Musically I was very affected by the 90s bands like Pearl Jam, Soundgarden, Alice In Chains, Nirvana… the list just goes on and on. Those bands really brought something to their music that was extremely special to me. My family's been very influential. I grew up in Alberta with my mom and dad both being united church ministers, so that was an interesting way to be introduced to the world and I think a lot of the hopefulness in our lyrics come from my upbringing.
Who writes the songs and are there perhaps stories about life and past experiences? The songs are a product of the 4 of us and each one comes from a very different place. If you'd like to ask me about specific songs, I'd be happy to let you know. I'm facsinated with the "human spirit" and the lyrics are often about the questions that I have and the search that I'm on – to try and answer some of those questions and I think that a lot of us are on that search together. you know, looking for answers and trying to make sense of our lives and what this whole thing is about.
Describe to us your shows, visually and musically. Our shows are extremely high energy and organic. We perform three-part harmony's so there is a lot of singing competing with distorted guitars and pounding drums. We love to get lost in the moment.
What inspires you to do what you do? The inspiration comes from within. I've been driven to do this since I was a little kid, probably since I can ever remember so the inspiration is definitely internal. since making records and touring I think I have to include the relationship with our fans into that equation now because I definitely get a lot out of seeing people affected by our songs.

What's the best and worst thing about playing clubs? I don't think there's a worst thing. every show is the best in its own way. I know some bands would be extremely disappointed to play to a small crowd, but for us it's different, we love playing to an intimate audience. Sometimes those can be the best shows. playing to large audiences also can be the best shows but in a different way, so I don't think there's ever really a downside to clubs. Probably if you go back and ask bands that have done really well in their careers, most of them would go back to the club shows and say that's when we really got to get down and dirty with the music, that's when we really got to interact with the fans, that's when we really got to drink the local beer and really live and breathe rock in the moment.
Tell us about your next show and why we should be there? Our next show is May 16 in Pittsburgh, PN. It is the first show of our 2015 Rise Up Tour with Apocalyptica and you should be there because it's our first show in three years and our first show since writing and recording our new record. it's going to be a night to remember.
— Jonny Hetherington