Kitty von Crypt – I've been asked this a lot and I honestly have no idea
What's your background in modeling? I've always had an interest in modelling and as a young teenager me and my friends used to get dressed up and go take photos of each other in pretty locations. When I was about 16 I decided to get hold of some "real" photographers and I really enjoyed it.
I modeled on and off as a hobby for a few years, then about two years ago I decided to try and make it my full time career. One thing led to another and before I knew what was happening, I got signed to Dark Arts Alternative Modelling Agency which is something I had dreamed of ever since I first heard of them.
Since then, I have worked my ass off to get my name out there and I have been so lucky to meet and work with some seriously talented individuals.
Who are some of your favorite models and designers, and why? Oh I always hate this question because its just so hard to choose. Lusy Logan, Nancy Harry, Triz Tass and Razorcandi are just a few of the models that I look up to, though the list is endless.
As for designers, it would have to be my sponsors Hallowed Latex, The Deitychain, The Red Queen Boutique and OutRight Optimist.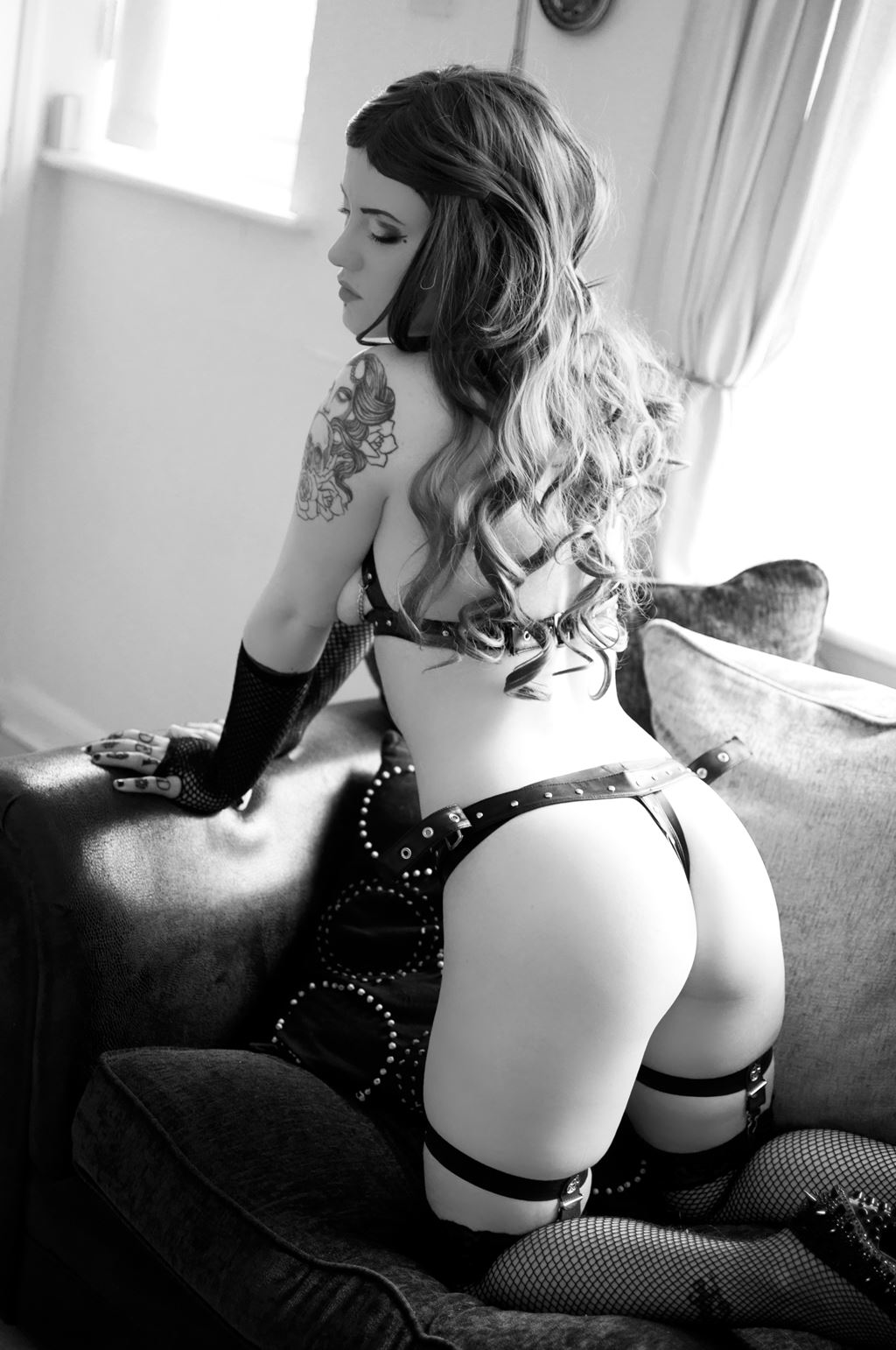 What's your fashion mantra? PVC, latex, spikes and anything wacky and alternative usually works for me!
How would you describe your style? I've been asked this a lot and I honestly have no idea. I mix so many different genres of styles up. Imagine if you took Marylin Manson, Mötley Crüe and The Sex Pistols, put them all into a bag and shook it up – the outcome of that is pretty much what my style is like.
What other modeling projects have you done? I have done a ton of things. I've modeled for countless designers and magazines, websites, events, festivals etc. As well as modeling I run my own magazine, called TRASH Magazine and I also interview bands for a radio station! Busy, busy bee.
Out of all your photos the photographers took of you, which is your favorite? Oh I can not possibly just choose one photo! I have been so lucky to work with so many photographers who work in different styles that it really is impossible to just choose one fave.
What do you dislike about modeling? The only thing I dislike about the industry is the amount of bitchiness there is. Recently there seems to be a lot of body shaming and negativity between models which really makes me sad because we should all be supporting each other not trying to drag each other down.
How do you prepare for a modeling shoot? I always make sure to research into the theme for a good few weeks before the shoot so that I know exactly what is needed from me. Then the night before a shoot I make sure to get an early night, a good night sleep is very important.
Who are some of your favorite photographers? I have to say that Jaded Images is my fave. Hes been my best friend for about five years now and I can honestly say that without his help, I would not be where I am now.
I can turn up at his house at any time of day and say "Hey Mark, I have this awesome shoot idea I want to do, can we do it now?" and he will always shoot it for me, no matter how weird it is.
How has modeling changed other aspects of your life? It has given me a lot more confidence, I am actually very shy in real life and modeling helps me break away from that. When I'm in front of the camera I can be someone completely different.
Do you do your own hair and makeup? I usually do all my own styling yes, but I occasionally do have MUAs that come to shoots and I always really enjoy not having to do it myself.
Anything else you'd like to say? Thank you to everyone who has followed me and supported me, it really does mean the world to me!