The Giraffes new video "Washing Machine"
(New York, NY) Hard rock quartet, The Giraffes, drop their new video, "Washing Machine" from their sixth studio release, Usury (Silver Sleeve Records).
As their first album in four years, "Usury amps up the Giraffes' herky-jerk rhythms and spindly guitar elements," (CMJ) and serves as both a comeback and throwback for the band. The new full-length is based around an antagonist in the form of the corporate stooge, who over the course of the album ultimately unravels from the corporate persona to be reset.
"Washing Machine" was directed by the Andrei Zakow, Shawn Regruto and the team at Dirty Work (HBO, ESPN, Netflix,Pharrell Williams), who stated, "from the first listen, the song felt both seductive and disturbing. There's a cinematic quality right from the start and then it becomes this wild roller coaster ride."
Brooklyn-based The Giraffes have been crafting "guttural rock songs since 1996." (The Village Voice) In 1998, they released Franksquilt, however it was not until singer Aaron Lazar joined in 2000 that the band found its true shape. The quartet released Helping You Help Yourself (2002), showcasing the group's signature "sludgy, punk meets metal flavor" (Marquee Magazine) and sardonic lyrics.
Over the coming years, Damien Paris (guitar/vocals), Andrew Totolos (drums/backing vocals/accordion), Lazar and John Rosenthal (bass) released three studio albums: A Gentleman Never Tells (2003), The Giraffes (2005) and Prime Motivator (2008). Songs from The Giraffes and Prime Motivator reference a series of bizarre events that would become Giraffe lore: in 2002, after a frenetic show at Brooklyn's Club LUXX, Paris got into a late night altercation outside of a White Castle, where he was shot in the leg; in 2005, Lazar suffered two heart attacks and a seizure, subsequently had a defibrillator implanted, which went off three times in half a minute before finishing a show in Chicago.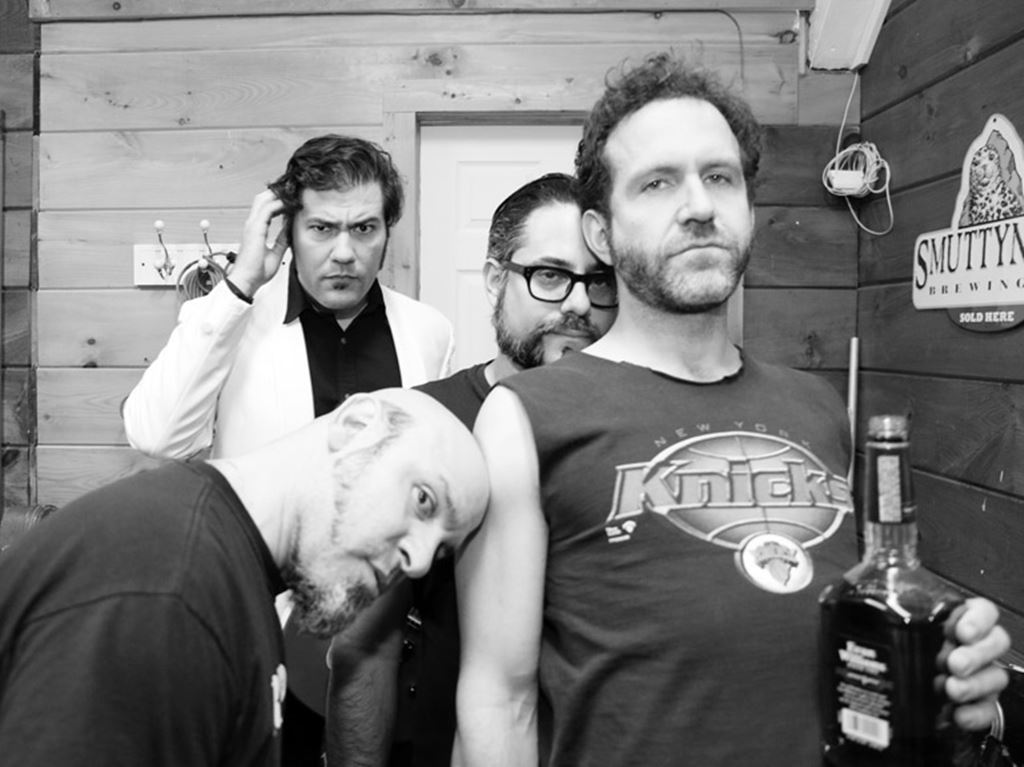 In 2009, Rosenthal left the band and was replaced by Jens Carstensen. Their album Ruled (2011) served as Lazar's swan song as band members began to explore other projects. At a February 2011 show at Mercury Lounge, Lazar declared that he was leaving the band. Without Lazar, the group released an album of rarities and B-Sides, Farewell Fat Astronaut (2012), and later, the eclectic Tales of the Black Whistle (2013), which featured the vocal talents of Brianna Wanlass and Kimberly Paige Valor. In 2014, Lazar re-joined the band, playing to sold out crowds, that bolstered support for the band and encouraged new material that would become Usury.
Not only have The Giraffes toured alongside stalwarts, such as Local-H, Eagles of Death Metal, The Vacation and Skeleton Key, they have shared stages with Interpol, Fishbone,Yeah Yeah Yeah's and The Strokes. Locking in festival appearances at Amsterjam, Voodofest, Monolith, SXSW and Bonnaroo, The Giraffes have grown to be a nationally recognized independent act. With the release of Usury, the foursome continue to demonstrate that "a Giraffes performance is a spectacle you will never forget." (Brooklyn Vegan)