Femke Fatale – I love it when girls say they feel like they can do anything by watching me
FEMKE FATALE. Hey, my name is Femke Fatale and I'm an alternative model. I pose for tattoo magazines, calenders, clothing lines and much more. I am also sponsored by Liquorbrand, a cool clothing brand and Fourspeed Metalwerks (metal jewelry, cool skulls), the best sponsor ever, oh wait, maybe not ha ha.
My friends of Needles and Pins Piercing, Hasselt, also sponsors me, its a piercing shop, so every time I visit them I go home with cool new plugs, piercings etc. Very nice. I also work as a promo girl for Monster Energy, they keep me awake during my busy life, my fave Monster drink is the absolutely zero, the ladies drink. For my work with monster, we drive around Belgium and Luxembourg and hand out samples with the big ass monster truck, a great and fun job, because you get to meet people all the time.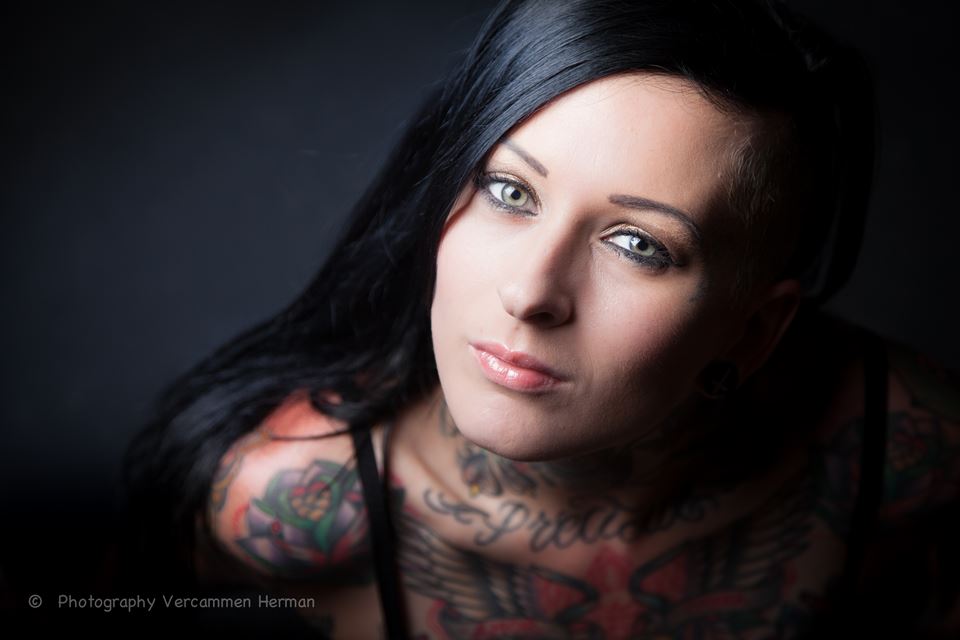 I am a big supporter of Sea Shepherd, my favorite good cause. They do so much good work definitely check them out. I am not just a model, I also host some tattoo conventions like the dutch ladies tattoo convention in Vijfhuizen, the Netherlands, only female tattooers, thank god men are allowed in there. Or else it would be just crazy there… just kidding. Besides this one I also host, together with this cool and crazy dutch guy, Rooie Frans, the Rotterdam and Eindhoven tattoo conventions. Excited for this year's editions. I work in the organisation of my fave convention ever, the Hamme Tattoo Convention, the one of my friend Sven, he is a great friend, would do everything for me. It is a smaller convention, all about tattooing, family vibe, always plenty of visitors, you should totally check it out.
I also am the face of this tattoo creme Soul Art. I am so excited they found me because its the best creme ever. You can use it from the day after you got the new tattoo, after care but also as a body creme for your ink, they enlighten from the creme, so cool. Never had a skin this soft. And no, I'm not just saying this, it is true.
My favorite alcoholic drink is Sailor Jerry, I work for them in Paris. The best crew ever. We always have a great time. I miss them already and I haven't been in Paris in ages. Melo, Liz and Dave… I love you! I also work for a tattoo and music magazine, Rocking ink. It's the only tattoo magazine in Belgium. We do half music and half ink, I make interviews for it. So cool cuz you get to meet the person within the artist or within the musician. We have this online TV show as well, in which we also follow a tattoo artist, interview bands and we got live footage. It's called Rockingink.TV. Definitely worth to watch. We do this with passion. And it shows it i think. Bands like Converge asked us if they can use our images for their upcoming DVD! That means something I think. Very exciting. Well this was a little something about what I do, now about my ink.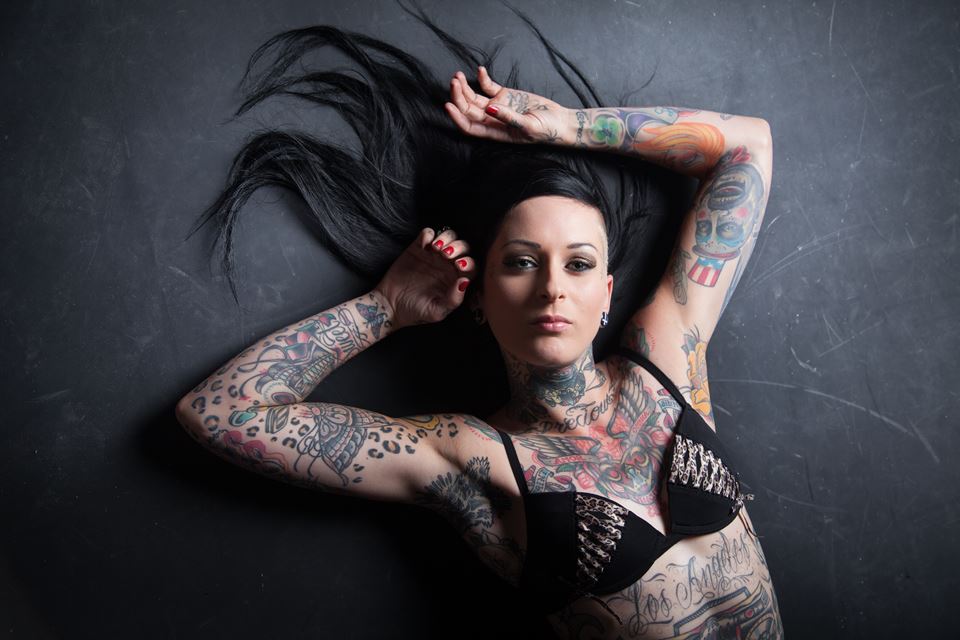 I don't think I'd be doing all this if I wasn't this heavily tattooed, I mean, I would not have gotten these opportunities. I never wanted all this, I never had this planned. I didn't get inked to be a model or to be or become this and that. I got inked because I love it, because it's my therapy, it's my life. My body is like a journal, I'm bad at saying what i feel inside, I cant draw I don't write so I tell my story on my body. My tattoos are my stories. Each and every one tell something about my life, my experiences my pain and my happiness. My first tattoo wasn't like this to be honest. I just got it because I wanted one, I knew early on that I liked tattoos, as a kid my mom always was ashamed when I saw tattooed people, I always stared or pointed at them. She thought that was in a bad way.
Hell no, in a good one! I admired that. They were awesome, special… themselves. So I had a big fascination for that. And for piercings and crazy hair like Mohawks, personality! That's what it is!
So I got my first one when I was 18, I was so excited, and a little scared. Didn't tell anyone, not even my parents. I got it close to my school, randomly. When I got it I was so proud. I showed everyone. My mom wasn't too happy about it. I guess she knew I'd end up like this. After that I regretted getting that tramp stamp. Oh yes, ha ha, it was a tribal and one on the lower back. Well done right anyways.
I found a great artist in Ghent. Like 30 min from here, in love with the work he did. So I went there since then he covered up the tribals. He did most of my ink, stomach, chest, sleeve, lower back cover up, legs etc. Jean Harai is his name. A great guy! He knew exactly what i wanted and he never made a drawing i didn't like. I just told him what I wanted, the whole story around it and he made it amazing. Thanks Jean.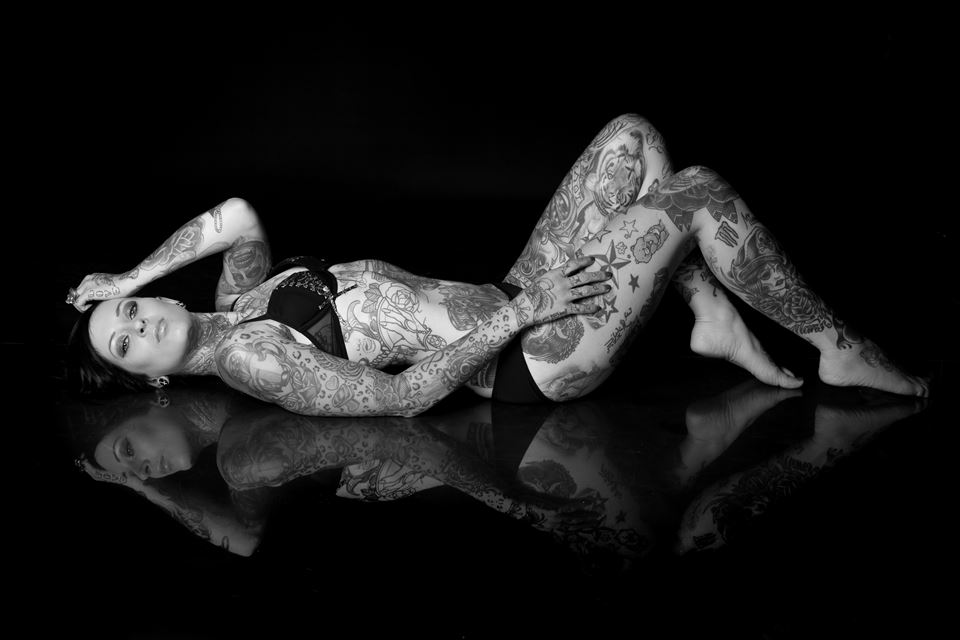 At that time my friend Cindy was a photographer, and she wanted me to model. I didn't want that because I was a tomboy and never wore makeup, I wore glasses, kind of nerdy. But she could convince me and I guess I could model well. People on Friendster, yes that still existed back then, loved the pix, and other photographers wanted to work with me. I did more shoots and got noticed by magazines online and at conventions, got more ink, became more open.
I used to be shy and drawn to myself, I opened up like a flower, felt more confident with my ink, my story and my body like any other girl. I got the question to host the Brussels convention in Belgium, so that's when I started doing that. I loved hosting, at first it was so scary. Omg, on a stage talking to so many people. Crazy!
But I did this for 5 or 6 years.
Now was time to move on and I do other conventions now, and also music festivals. I'm hosting this El Bastardo Metalfest in January, featuring Unearth… oh yeah!
When I got more ink, I went to shop with my mom, I didn't tell her I had that many already. I started with spots no one could see when I was fully dressed. We went shopping, needed bras. She wanted to see if it fitted, euhhh, I came out, you should have seen her face! She didn't know I had this whole chest piece and stomach ink. She didn't know what to say. She usually always knows what to say.
She could not make a scene, because we were in public, ha ha! And the funny thing was, the partner of my artist was at the shop with his wife that moment. Now that's random. My parents at first were scared for me. They thought I had ruined my life, I wouldn't find work, I'd be a looser. I proved them wrong. Now they're so proud of me, they collect everything from the papers, magazines and TV stuff of me. They wanna show all their friends and our family. Feels good. Very good to finally have that kind of support and not that nagging "why" any longer.
They still wish I hadn't gotten that much, I know, but they got over it. I'm still their daughter. Once I wanted a white golden tooth, ha ha that was the drop. Mom said she would kick me out if I did get it, so i didn't. The annoying thing about being a fully tattooed lady is the staring, usually I don't mind and I don't see it anymore, but in a bad mood, argh it can piss me off. I never act mad to people, I stay friendly, that's the best u can do!
They are like "wtf she is a nice girl"… ha ha I love it.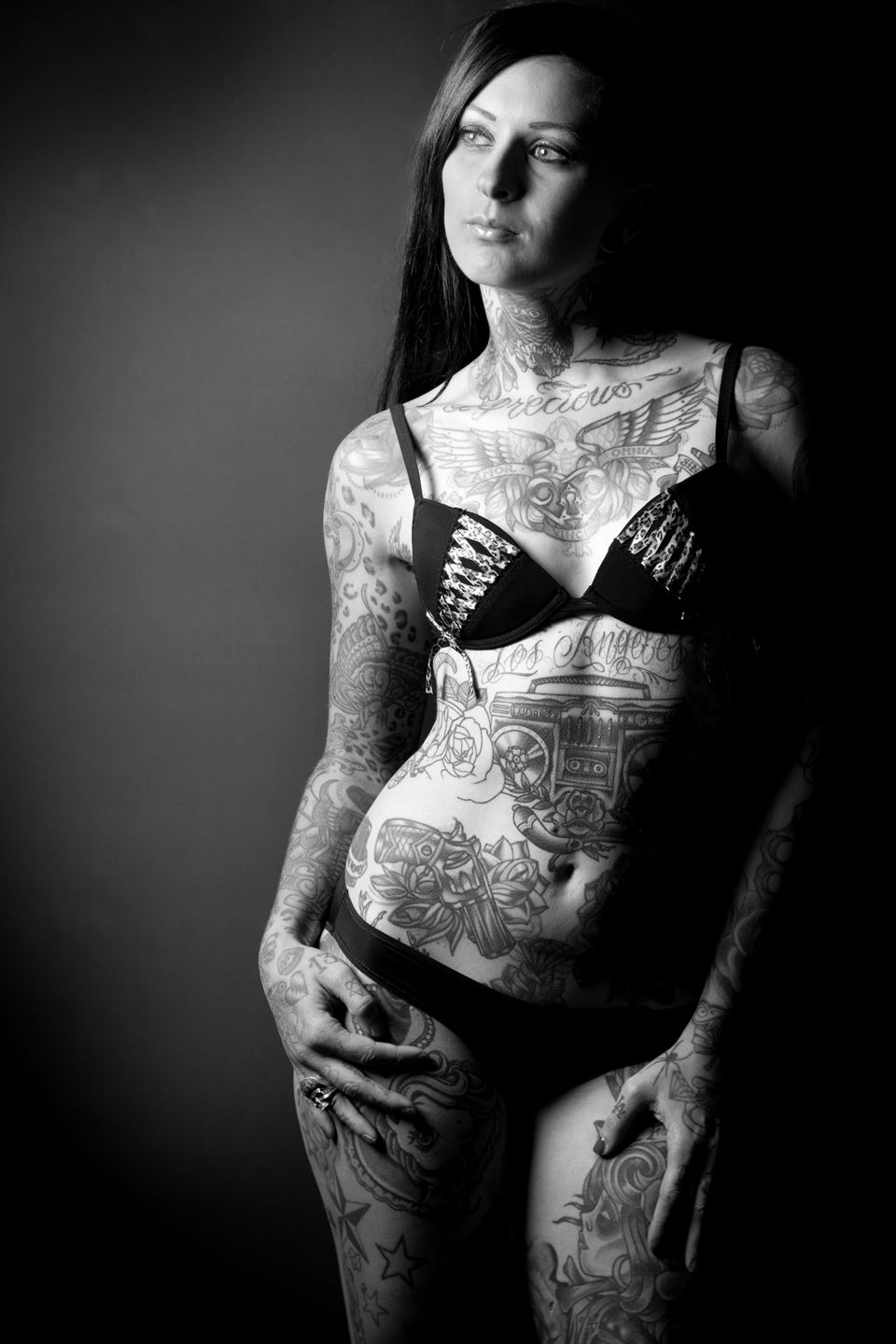 So I get a lot of attention and a lot of negative attention too, so girls don't be jealous. I had some girlfriends hating hanging out with me because of that and that hurts me. I mean, I'm just me, most of the attention is negative, they felt not important around me, now that's harsh. And my ex boyfriends as well, they couldn't handle it, and deep inside I'm the nicest girl. People have the wrong impression of me due to my looks.
On the inside I'm nice and sweet, soft even. If you get to know me you'd realize. I don't do the wild girl shit, no thanks! Give me movies, especially zombie movies, TV shows like Vikings, Big Bang Theory, Entourage, Sons of Anarchy and The Walking Dead and I'm happy. Don't need all the party shit. Just friends, movies and good snacks.
Negative attention can be funny though. Some people said my mom probably cried a lot, because I destroyed my pretty looks with tattoos, or that I was pretty but now weird and shallow! But I also get a lot of compliments about them, that my ink is art. Even old and posh people who hate tats say that they don't like it but mine are gorgeous and it fits me, this is nice to hear.
Ink is getting a bigger part of life. It's getting more common, less white trash, less associated with criminals and fishermen, it's more acceptable now. When you want ink now, you got it forever. I used to be able to go the next week for the session. So much has changed, for the beter? Yes and no… but I wont bore you with that. I am also a big cat lover. I got 5 cats myself and a bunch of cat tattoos… ha ha… cattoos! The coolest animals ever. I booked a trip, February 2nd until till March 3rd, I'm gonna work at Drakenstein Lion Park, and help save lions, a dream come true. I'm so happy! My hero is Kevin Richardson. What he does… damn, I'd marry him in no time.
I love music and especially bands like Guns 'n' Roses, Gallows, Turbonegro, Channel Zero and Deez Nuts… loud! Motorhead is also one of my favorite bands, Lemmy is a hero!
How would you describe your work, and what is your main goal with your work as a model?
My main goal is to make people see that you don't have to be a picture perfect person to be someone. You can be different, you can have imperfections etc. I do modelling and I'm not the normal "girl". I like to show people that tattoos are art, my body is my journal and my tattoos are my stories, I'm a living canvas! I am me, I don't do this for everyone else, tattoos are personal and meaningful. I got lucky that I got to do all these things. My work, I can't really describe it. I mean it comes from the heart, it's real, it's natural and it's passion. I don't do extreme photos, I love those classy shots. It can be sensual but not trashy. That's not my style. Only my boyfriend gets to see me naked! I don't need the world to see. It's about tattoos, not tits!
What are your plans for the future, are there any new and exciting projects you would like to share with us?
Well just keep going as I am now, we got a show with tribal trading in march at the Frankfurt convention. We do a piercing corset show, Bart Bastiaanse pierces us and our backs and and we make a fire show. It's gonna be a blast. I just became the "godmother" of a shelter for animals, I love animals and this year I wanna do more with them. This and my south Africa project… excited. I'm also hoping to be able to host more events, shoot more and start my own clothing line. I already got the concept etc, and I just can't wait.
Tell us about the most valuable moment in your modelling career.
It's every time I get messages from young girls that admire what I do and can relate and its amazing to see how many peoples lives you touch. I love it when girls say they feel like they can do anything by watching me. That's the best thing ever! It's what I do it for, support people, help people it's the best.
Work related… I'd say my first cover and my first hostess job. So many moments! I'm truly blessed. Thank you all!