Devilfire are going to be damn huge
WOAH! Devilfire are going to be damn huge. FACT! "Dark Manoeuvres" is the band's debut Album and it's going to blow your mind, its full of delicious, powerful, emotional and hook laden riffs that will rock your soul and have you boogying and singing into the night.
Opening with the highly addictive "Ready for War" its full to the brim with Hard Rocking punching the air in ecstatic delirium as the music enthuses and beguiles you, then the super cool "She's Like Fire" bounces into the room this is going to be a killer live, as you bop and sing along to this compelling and highly sexy groove machine.
So, two songs in I am already blown away and a new fan of Devilfire, they are truly exceptional!
Fronted by the mega talented Alex Cooper on Vocals and aided with the scintillating Guitars of Baz Blackett and Richard Bloomer-Davies, The Band are already like the cat who's gotten the cream with just those three guys, then added to the line-up is the super solid rhythm section of Lars Wickett on drums and Davey Bennett on Bass makes this kitty cat purr and show its claws as they bring pure Rock and Roll to your presence.
"In and Out of Love" continues to move and ignite your soul as this Bluesy infused number has you moving and schmoozing to the bands Hard Rocking swagger.
Talking of swagger "Waiting for a Rockstar" delivers on all fronts and is a favorite of mine on this opus as this numbers drenched in pure Hard Rocking Meltdown that many a band would have been proud of back in the heady days of Eighties its full of good time grooves and damn fine catchy lyrics.
The next track is a melodious delight as "Lay it on The Line" beguiles and enthuses you, it's superb with its arena anthem fuelled vibes taking your breath away. "Kill Your Love" is a punchy, head bashing express train taking you to Hard Rock heaven! Then the Blues are brought fully to the fore with "Tear me apart" it's get your Zippos out time and let the music seep into your heart, moving and beautiful is the best way to describe this song.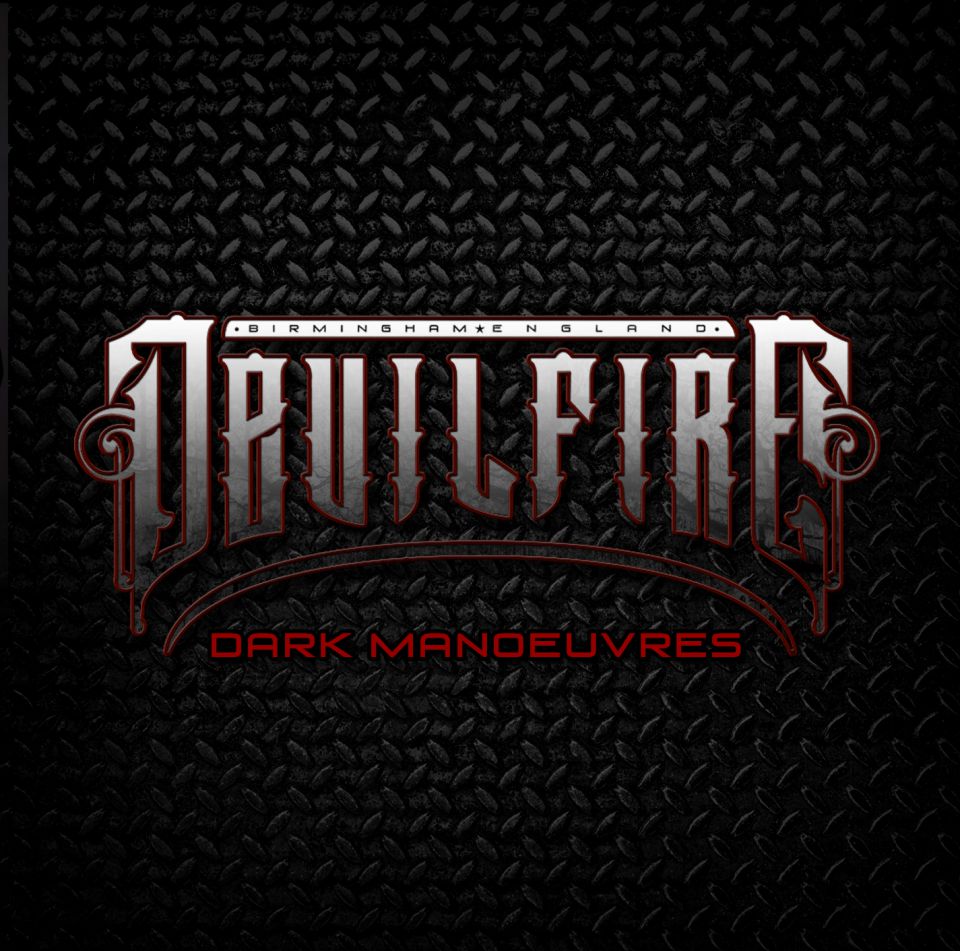 "God give me vengeance" has some killer lyrics that sees some dynamic and killer riffs as you sing along, another favourite on a Album of pure gems for me on this thirteen-track monster! The good time rocking just doesn't stop as "Devil in your Eyes" sees Satan weaving his magic as the band crack out another trail blazing tune. Simply awe-inspiring stuff as "(You Gotta) Revolution" punches you in the throat with its pure Metal neck straining intensity, the heaviest song on here and its outta this world!   The splendour of 'She is always on the run' is up next.
It's a touch of classic hard rock, a real roller-coaster of a track that really shows the bands versatility and highlights the bands dynamism.
Penultimate track "A thousand times" pounds and makes a killer statement, as the drums pummel and the guitars let loose some cracking riffs. For me personally with my own spin is: "A Thousand Times" let's make DEVILFIRE HUGE! This work of art ends with "Somehow" it brings everything down a notch it's a stunning spine-tingling effect brings the Album to a close.
Devilfire have already toured with former Nightwish singer Tarja Turunen playing to capacity 2000 sold out venues these guys are the real deal and with outa doubt the best new up and coming band here in the UK. Not many if any deserve success as much as this Birmingham based group of super talented musicians! Without a doubt, the Debut Album of 2017!
Review by Seb Di Gatto – Score: 10/10
TRACK LISTING
1. Ready For War?
2. She's Like Fire
3. (In And Out Of Love) All Of The Time
4. Waiting For A Rockstar
5. Lay It On The Line
6. Kill Your Love
7. Tear Me Apart
8. God Give Me Vengeance
9. Devil In Your Eyes
10. (You Gotta) Revolution
11. She's Always On The Run
12. A Thousand Times
13. Somehow
BAND LINE-UP
Alex Cooper – Vocals
Baz Blackett – Guitars
Davey Bennett – Bass
Lars Wickett – Drums
Richard Bloomer-Davies – Guitars
DEVILFIRE OFFICIAL