I have been designing latex clothing since 2013 up to present
My Name is Chantele I am the designer and model for the Mystical Dream latex design by Twisted Visions.
I have been designing latex clothing since 2013 up to present. Every year I set goals on what I would like to accomplish and to move forward in the future.
I'm proud of all the things I've done already through out all the years. From meeting amazing photographers, models and makeup artist. Also anyone that's part of the scene. Every photo shoot that Twisted visions worked on has been published in all different categories of international magazines, Plus six front coves.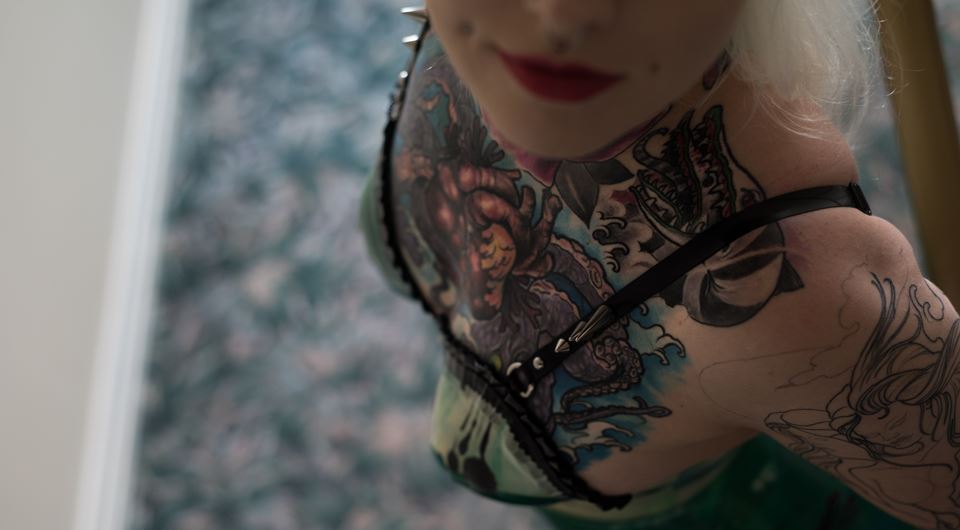 This year's goal I'd like to get more front cover magazines and to see twisted visions shine in the latex and fetish industrial. For myself as a model Id like to be known for a latex and tattoo model. I would like to become more famous and stand out with my talents. Just Like every girl's dream, is to stand out in the crowd and to be remembered, to shine your star.
The Mystical dress is made to order and to fit your size. Each dress is one of a kind with the colors available and the latex sheet is made custom for the order. The latex thickness of the design is 0.40mm and is made high quality with perfection.
It's also Wearable for Sensitive skin. The straps have high quality stainless steal spikes and metal attachments.
You can purchase this dress or other designs on Twisted Visions website at TwistedVisions@live.co.uk
Photo shoot was taken in Edmonton AB, Canada May 2017 with photographer is Delain Witxaney, Lady Luck Studio. The inspiration is a vintage pinup girl posing in a stairway.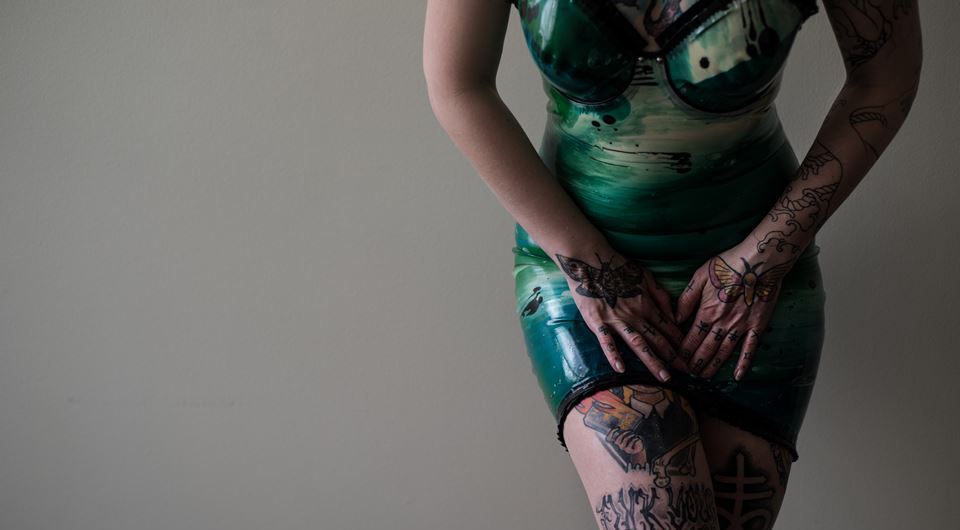 The tattoos on my body we're done by mainly three tattoo artist's that's located in Edmonton, AB. First artist is Jen Danger, she tattooed my rose on my throat, and back of my neck with flowery art. Jen also tattooed my thigh with my sphynx cat Lydia.
The second artist is Andrew Christou, he tattooed a cover up my chest piece that is an octopus holding a heart with the beetle juice sand worms on my shoulders.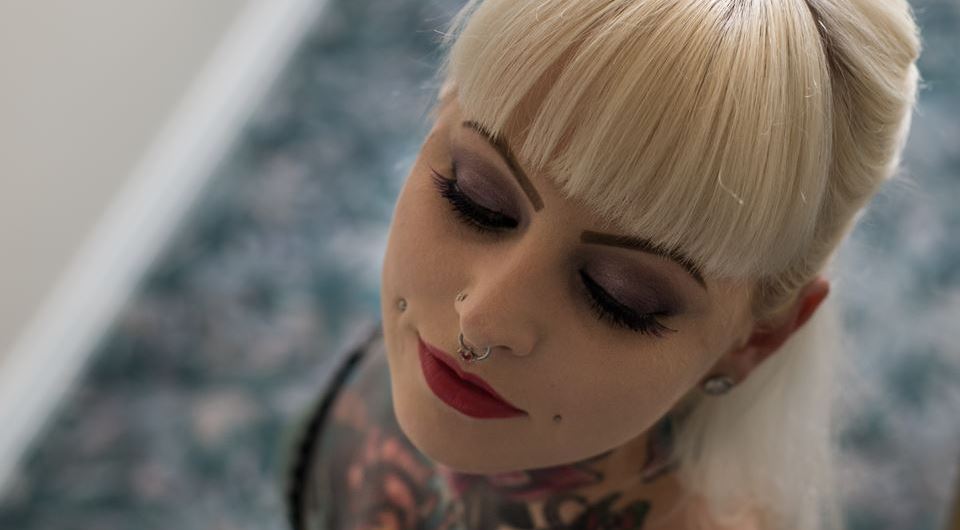 We also recently started of my left sleeve that is a Siamese mermaid. Andrew tattooed my hands and knuckles plus the Wednesday Addams church on fire tattoo that is on my thigh. The third artist is Chris Iwaniuk, Chris tattooed my thighs a satanic cross with art fonts and also my David Bowie portrait.
CREDITS
Latex Designer, Model – Twisted Visions by Chantele Smith
Website – www.TwistedVisions.co.uk
Facebook – www.facebook.com/www.twistedvisions.co.uk/
Instagram – www.instagram.com/twistedvisions666
Photographer – Lady Luck Studios by Delain Witzaney
Facebook – www.facebook.com/ladyluckstudiosyeg
Website – www.ladyluckstudios.com
Instagram – ladyluckmojo