Chronus is an exalted quartet formed in 2015 and led by the Baron
Hailing from Helsingborg, Sweden, Chronus is an exalted quartet formed in 2015 and led by the Baron.
Young, fresh and visionary, they carry the metal torch with astonishing maturity. Delivering a majestic performance filled with striking melodies and hard-hitting riffs, Chronus have been compared to the likes of Mastodon and Gojira.
Vocalist and guitarist the Baron, dressed in white, embodies a voice reminiscent of Ozzy Osbourne, complementing the work of his three black-clad associates.
October 28th, 2017 marks the official European release of Chronus' self-titled debut album on Ellefson Music Productions, aka EMP LABEL GROUP, the label of legendary Megadeth bassist David Ellefson.
After a well-received performance at this year's Sabaton Open Air, the band are currently preparing for a Scandinavian tour supporting Soilwork and The Unguided.
Additionally, the band have inked a deal with Die Crawling Management, helmed by Megadeth drummer Dirk Verbeuren and his wife, former Nuclear Blast publicist, and professional music photographer Hannah Verbeuren, both firsthand witnesses of Chronus' astounding growth since their inception."
In order to spread rapture upon the people, Chronus ceremoniously convert their audience in a relentless conquest to take on the World. Join their voyage to the City of Light!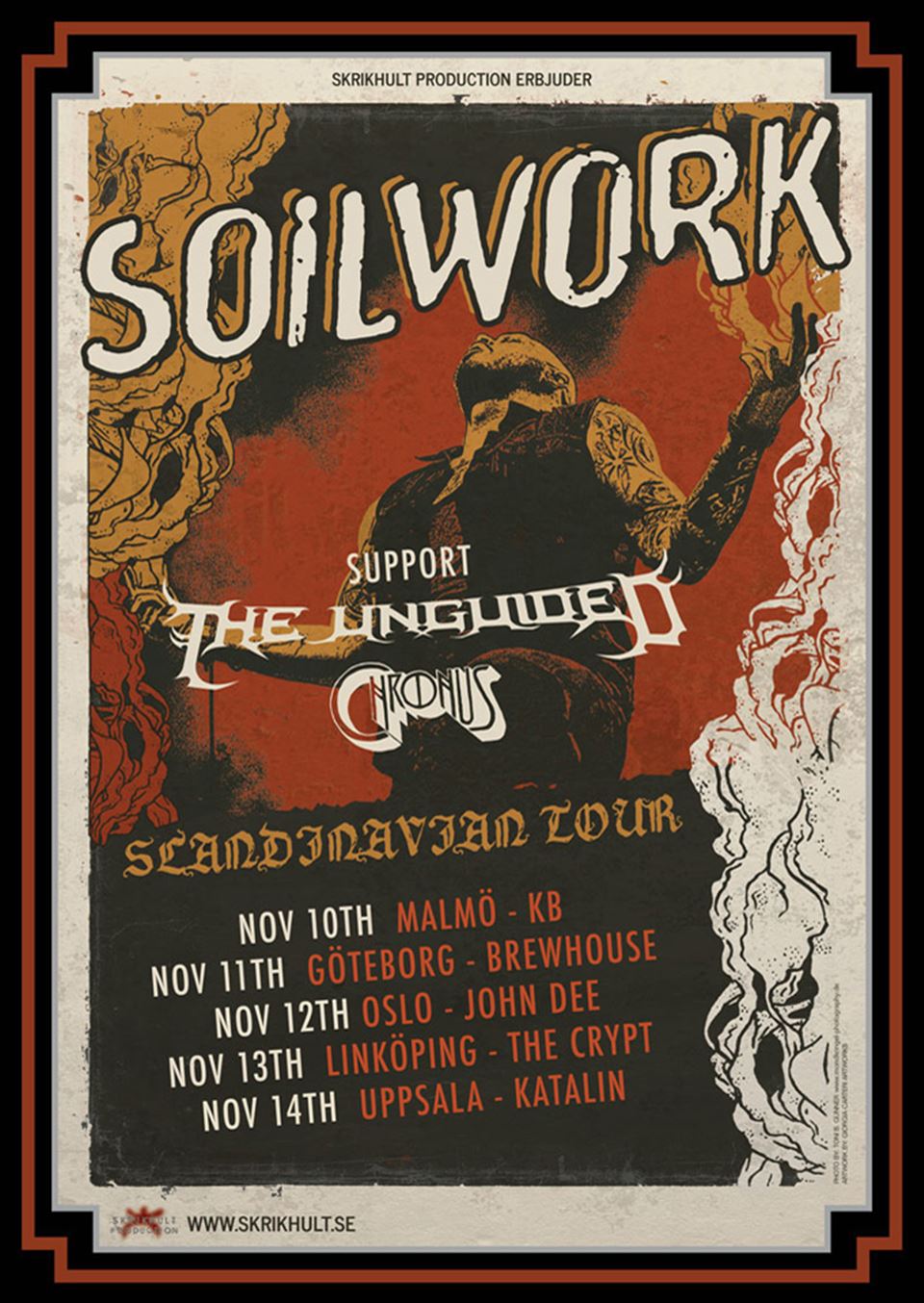 TOUR DATES WITH SOILWORK + THE UNGUIDED
Nov 10, 2017 – Malmö, SE – Kulturbolaget – http://kulturbolaget.se/konserter/2017/soilwork-2017
Nov 11, 2017 – Göteborg, SE – Brewhouse – http://kulturbolaget.se/konserter/2017/soilwork-gbg-2017
Nov 12, 2017 – Oslo, NO – Rockefeller / John DEE / Sentrum Scene – http://www.ticketmaster.no/event/534999
Nov 13, 2017 – Linköping, SE – The Crypt – https://www.tickster.com/sv/events/nlh603ycze63hf9/2017-11-13/soilwork-linkoping
Nov 14, 2017 – Uppsala, SE – Katalin And All That Jazz Östra Station – https://www.tickster.com/sv/events/uxe12xhkz77zpwl/2017-11-14/soilwork-live-pa-katalin
CHRONUS LINE-UP
Sebastian "The Baron" Axelsson – Rhythm guitar, lead vocals
Svante Furevi – Lead guitar, backing vocals
Oliver Delander – Bass, backing vocals
Jonatan Östling – Drums
CHRONUS OFFICIAL
www.chronusofficial.com
www.facebook.com/chronusband
www.instagram.com/chronusband