Death Metal Masters Morta Skuld return with their first full length Album since 1997
Having released an EP in 2014 called "Serving Two Masters" Morta Skuld have now re united with Peaceville records who were the label the band started out with in the beginning and released three Albums with the company (initially via legendary sub-label Deaf Records).
"Wounds Deeper Than Time" hits the streets Mid February with a new and reinvigorated line up featuring longstanding member and founder David Gregor (Guitar/vocals) Scott Willecke (Guitar), AJ Lewandowski (bass) and Eric House (drums).
The Album opens with "Breathe in The Black" a compelling and brutal deliverance of Old School Death Metal, the growls and crushing riffs hook you in as the Melody's become one tumultuous sonic attack on your ear drums.
The excellent and my personal favourite "Hating Life" is a highlight on here while the lyrics touch a nerve as the twisted viciousness and hateful feelings bleed into your presence the deathly growls from David Gregor will send chills of trepidation down your spine on this highly contagious song.
The brutality continues to infect, flowing from your sound system as "My Weakness" detonates unleashing its wrath, Eric Houses Drums beat and whip your soul as the vigorous onslaught endures.
Nasty swirling riffs and rasping growls come forth on "Against The Origin" the drum beats mesmerize you as you "fall from grace".
The speeding "In Judgement" smashes into you, like an unstoppable freight train leaving a trail of flesh ripping sparks in its wake.
Then the Title track "Wounds Deeper Than Time" curdles your brain cells with its brute force and hellishly deviant riffs from Scott Willecke and AJ Lewandowskis deep toned Bass man ship shakes you to the core.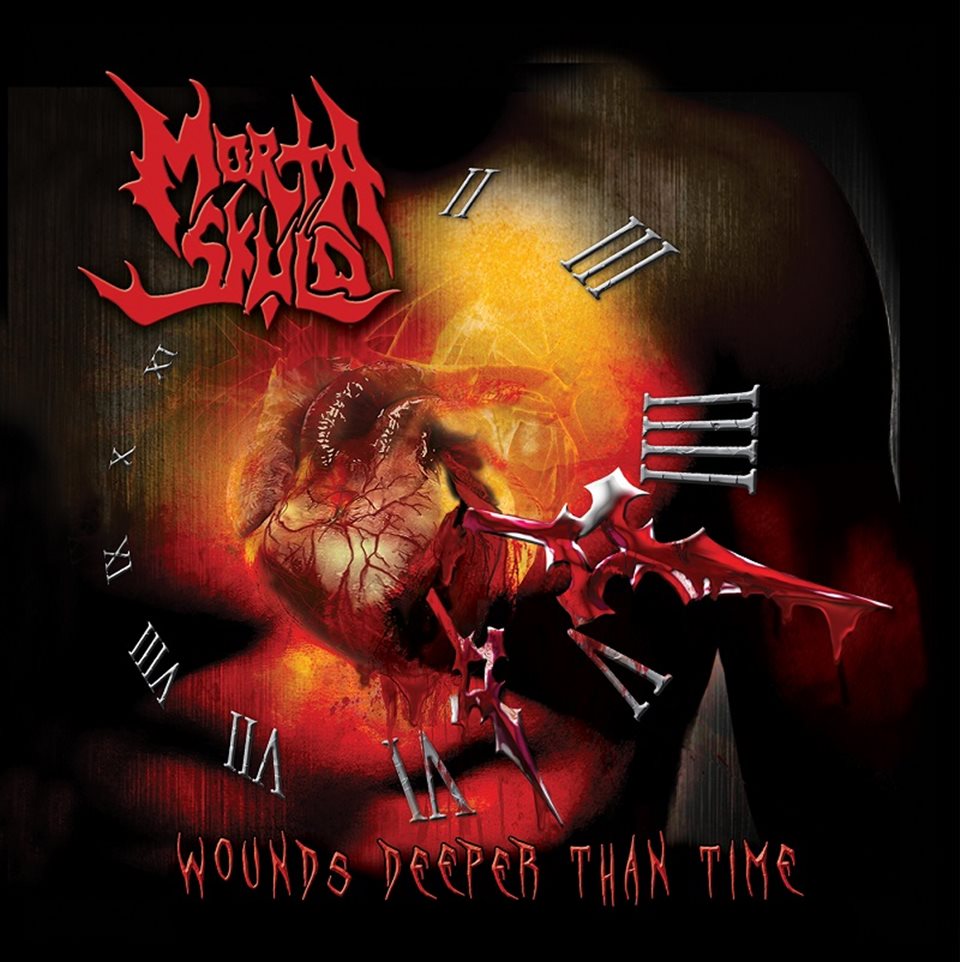 "Scars Within" punches you full in the face with its invidious intent. This will indeed scar you ripping the tendons in your neck as you bang your head letting loose all your pent up anger in the mosh pits of hades! Next up is "Devour The Chaos" which is a full force of whirlwind tempos that continue to punish your neck and enthuse the listener.
"Becoming One Flesh"brings the Album to a close, its an engaging six minutes of your life that flows into your mortal being with its brutal and cutting delivery.
Morta Skuld deliver a decent Old School Death Metal Album With "Wounds Deeper Than Time" its a tempting invitation to fans of this genre of Metal and will attract many new fans while appeasing the bands hardcore faithful am sure.
These Wisconsin Metallers will infect the Metal Community with there vicious malignant sounds!
Review by Seb Di Gatto – Score 8.8/10
Track listing
1. Breathe In The Black
2. Hating Life
3. My Weakness
4. Against The Origin
5. In Judgement
6. Wounds Deeper Than Time
7. Scars Within
8. Devour The Chaos
9. Becoming One Flesh
Morta Skuld line-up
David Gregor – Guitar and vocals
Scott Willecke – Guitar
AJ Lewandowski – Bass
Eric House – Drums