Coming off the heels of one of the most celebrated reunions in Musical history
Legendary MISFITS guitarist DOYLE WOLFGANG VON FRANKENSTEIN heads back out with his eponymous solo band. Featuring vocalist Alex "Wolfman" Story (Cancerslug), bassist Brandon Strate, and drummer Brandon Pertzborn, this time for a massive European expedition.
Playing songs from their skull-crushing debut LP ABOMINATOR, (released in 2013 on Doyle's own MONSTERMAN RECORDS) as well as staples from the MISFITS catalog.
After touring the US relentlessly for the last 2 years, DOYLE will bring his spook-show spectacular to European soil for the first time this Spring, for an extensive tour of the UK, Germany, Austria, Italy and more.
Tour dates
2/1 BIRMINGHAM, UK – MAMA ROUX
2/2 CHESTER, UK – THE LIVE ROOMS
2/3 GLASGOW, UK – AUDIO
2/4 NEWCASTLE, UK – ACADEMY 2
2/5 MILTON KEYNES, UK – CRAUFORD ARMS
2/6 LONDON, UK – THE UNDERWORLD
2/7 EINDHOVEN, THE NETHERLANDS – DYNAMO
2/8 OBERHAUSEN, GERMANY – HELVETE
2/9 BERLIN, GERMANY – WILD AT HEART
2/10 HAMBURG, GERMANY – BAMBI GALORE
2/11 OLDENBURG, GERMANY – CADILLAC
2/12 ERFURT, GERMANY CLUB FROM HELL
2/14 OSTRAVA, CZECH REPUBLIC – BARRAK CLUB
2/15 BUDAPEST, HUNGARY – DURER KERT ROOM 041
2/16 VIENNA, AUSTRIA – VIPER ROOMS
2/17 MILAN, ITALY – LEGEND CLUB
2/18 CERVIA (RAVENNA), ITALY – ROCK PLANET
2/19 ROMA, ITALY – TRAFFIC
2/21 BADED, SWITZERLAND – WERKK
2/23 MADRID, SPAIN – SALA LEMON
2/24 BARCELONA, SPAIN – SALA BOVEDA
2/25 ROMANS/ISERE, FRANCE – LA CORDONNERIE
2/26 ST JEAN DE VEDAS, FRANCE – SECRET PLACE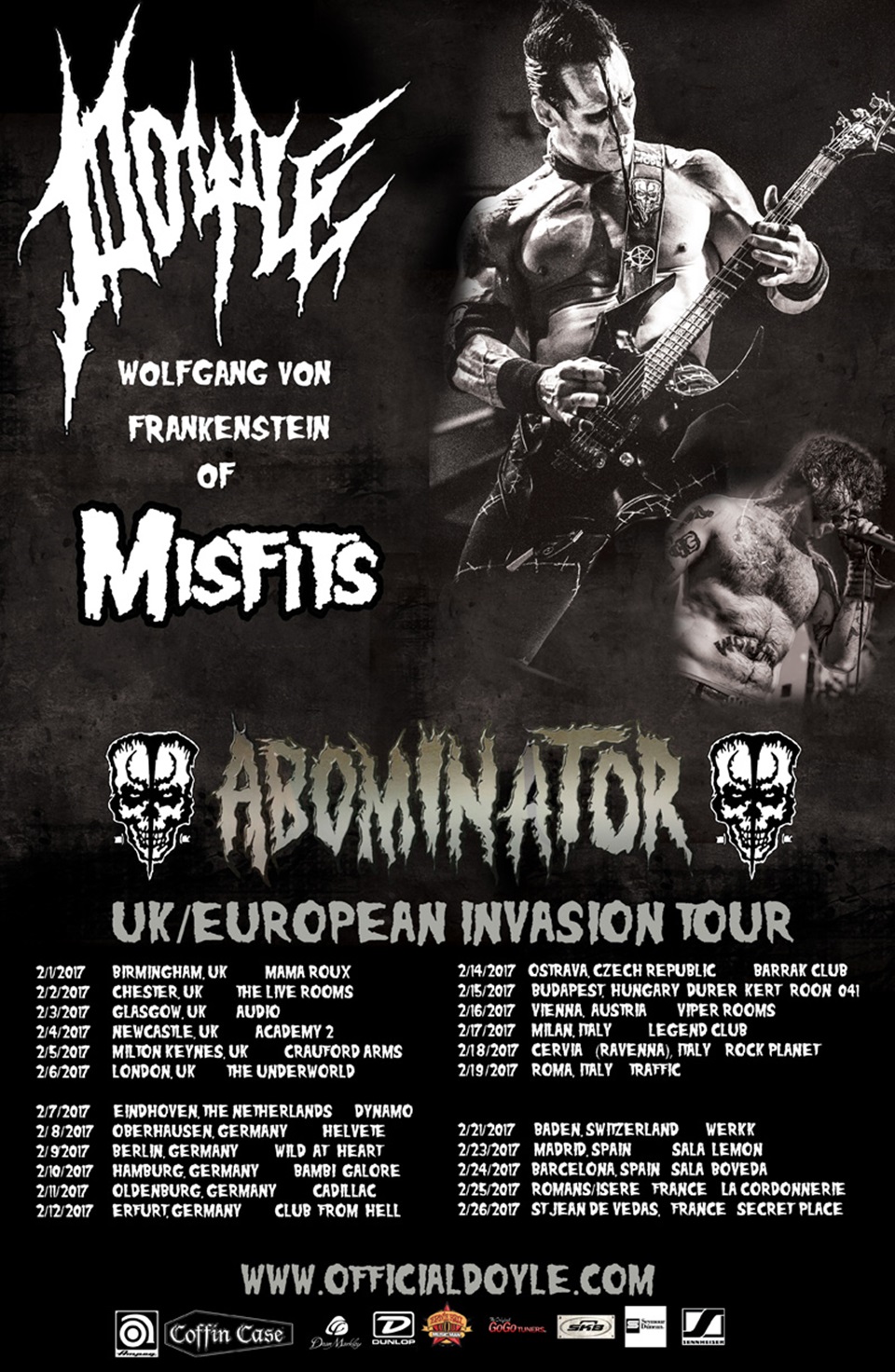 VIP and Meet and Greet packages available at www.OfficialDoyle.com
DOYLE WOLFGANG VON FRANKENSTEIN official website
DOYLE WOLFGANG VON FRANKENSTEIN on Facebook