The band interweave Middle Eastern tones with killer Metal riffs
Dave Ellefsons EMP Label recently signed Turkish Metallers Pitch Black Process after they came to the Megadeth legends attention when they supported his band in Istanbul in the Summer.
The band interweave Middle Eastern tones with killer Metal riffs, mixing their songs in their own language and English thus demonstrating that Heavy Metal is totally without boundaries in all its forms.
Opening with "Borrowed Lives and Borrowed World" a powerful introduction forceful, ferocious Drums combined with groove laden riffs and clean cut vocals interspersed with some sinister growls.
So you can see straight away why one of the leading Underground Metal Labels has snapped these guys up.
Emrah Demirel is on vocals and Guitars, his style and delivery is mesmerizing on "Into The Void/ Derinlere" the Band intermix Turkish and English Vocals, this song has an Anthematic feel to it and the rest of the band join in at various stages with Background verses and deeply resonating Bass Lines are delivered by Emre Demirel.
I love the way the song fades out then "boom" the Drumming from Fikri Yargici brings the song back into focus. This is one of many highlights on "Derin".
"A Soundtrack For The Lonely" is strong, a real treat for lovers of Melodic Rock angst filled with moments of brutality. "Dark Desires" at first so reminded me of Sisters of Mercy with its Gothic fueled fire. I hope the band don't mind this comparison! Then the track kind of changes direction into a heavier mode.
Briefly its the arrangement and chorus that brings back memories of intense nights in hot and sweaty Goth clubs back in the day.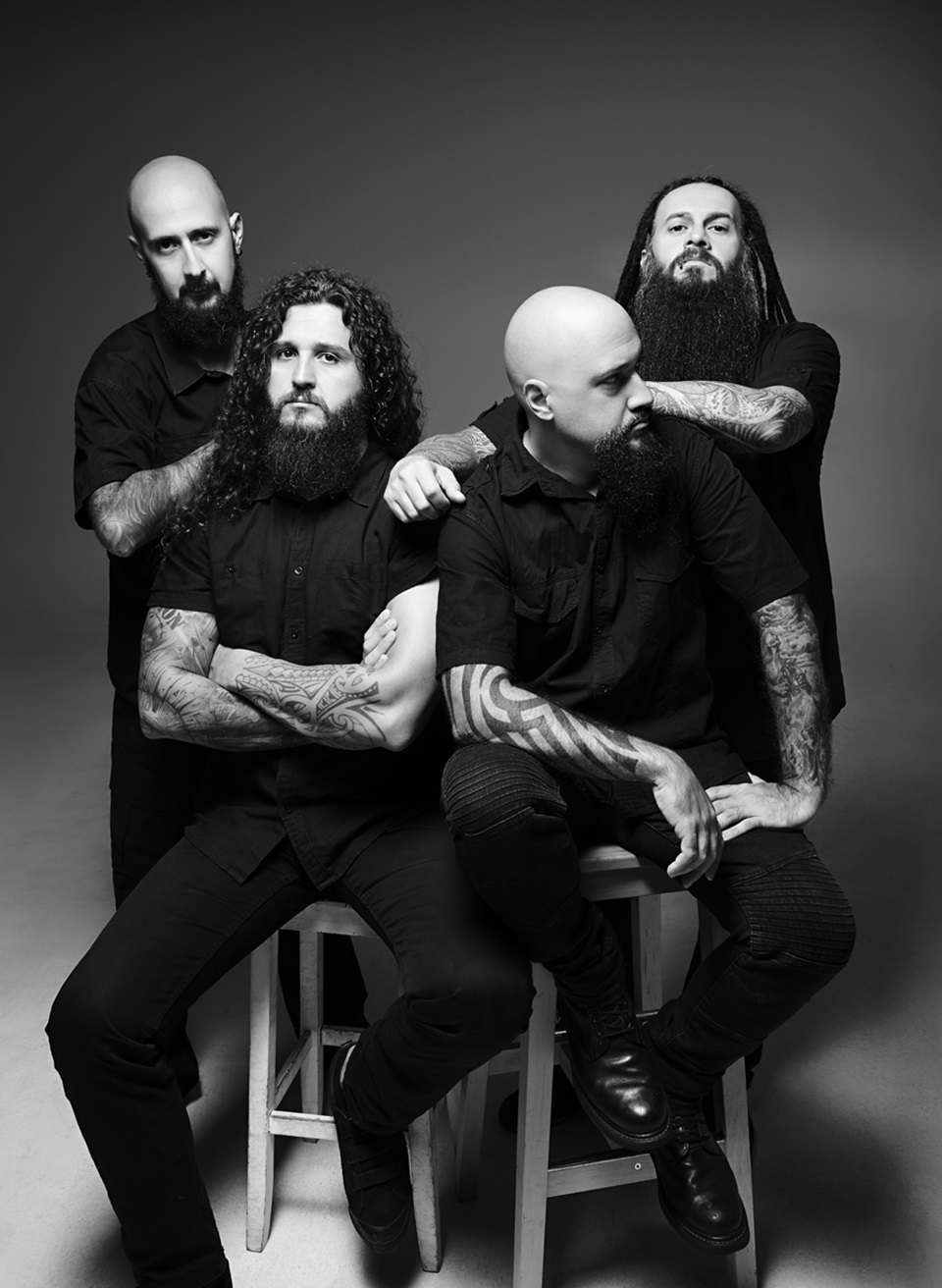 "Halil Ibrahim Sofrasi" is a Metal version of a Turkish pop hit from 1984 and this is where you go on to You tube to find aforementioned song unless you are familiar with it of course! All I can say is I prefer the new version of this song!
"Final Riddle / Son Bilmece" is a pounding, thundering beast mainly sung in the bands native tongue. That doesn't matter of course, it batters you, hauling you through some damn fine musicianship and paint peeling riffs from Kerem Inci guitars.
"Debris" is a Metal Meltdown to fully bang your head to. Its unstoppable locomotion of neck straining abandonment. The Band recently released a Video for the next song, my personal favorite on here "Toy Soldier / Oyuncak Asker".
Its chugging and frenetic curves leave you in a state of Metal enchantment. Penultimate track "Beautiful Delusion" is heavy and Bass laden with some fret burning guitar riffs.
"Eskiya Dünyaya Hükümdar Olmaz" brings the Album to its conclusion. If you haven't already disturbed the neighbors this song will definitely hit the spot with a sledge hammer right between the eyes!
These Turks released their debut Album "Hand of God " back in 2013 and two previous albums when the band were known as Affliction.
Luckily for them and for the Metal World they have been picked up by one of the best labels out there and the bands future is looking bright if" Derin" is anything to go by, a true Turkish Delight!
Review by Seb Di Gatto, Score 9/10
Release date December 3rd 2016
Track listing
1. Borrowed Lives and Borrowed World
2. Into the Void / Derinlere
3. A Soundtrack for the Lonely
4. Dark Desires
5. Halil Ibrahim Sofrasi
6. Final Riddle / Son Bilmece
7. Debris
8. Toy Soldier / Oyuncak Asker
9. Beautiful Delusion
10. Eskiya Dünyaya Hükümdar Olmaz
Pitch Black Process line-up
Emrah Demirel – Guitars/Vocals
Kerem Inci – Guitars
Fikri Yargici – Drums
Emre Demirel – Bass
PITCH BLACK PROCESS official website
PITCH BLACK PROCESS on Facebook