Before he had any tattoos, Zombie Boy was diagnosed with a brain tumor
Zombie Boy (born Rick Genest on August 7, 1985) is a Canadian artist, actor, and fashion model born in Chateauguay, Quebec. He is also known as Zombie Boy for the corpse tattoos covering the majority of his body.
Before he had any tattoos, Zombie Boy was diagnosed with a brain tumor. Zombie Boy was on the waiting list for six months, where he contemplated his own life and possible death, before undergoing the surgery with minimal complications.
Leaving his house one day, Zombie Boy went for a walk and decided to live downtown, on rooftops and in dumpsters or under bridges. Hitchhiking became his main method of transportation. According to his video, he started living "an anarchistic lifestyle". He claims to have already been introduced to punk rock, the punk scene and freak shows before his decision to tattoo himself.
Tattooed as a living skeleton, Zombie Boy also worked in various sideshows and freakshows across Canada as an illustrated man. Not long after beginning his facial tattoos, Genest was first introduced to the public on November 13, 2006 in a blog post by Shannon Larratt on BME's ModBlog, which was followed in March 2008 by his first interview, by which time his iconic tattoos were largely completed.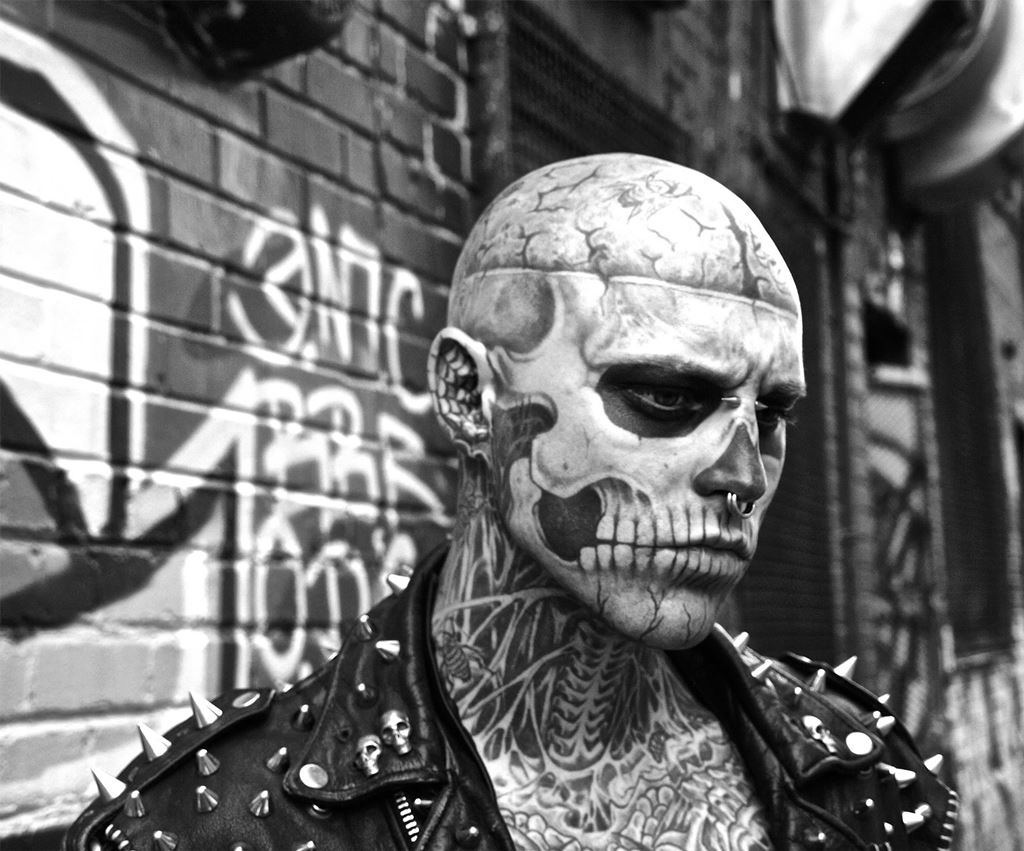 In this interview Zombie Boy clarified that he preferred the moniker "Zombie" to "Skullboy", as BME had been referring to him. The introductions on RzyM's Channel led to increasingly mainstream media coverage, notably a June 2008 feature in 'Bizarre' magazine.
In the 2009 made for TV movie "Carny", starring Lou Diamond Phillips as a small town sheriff, Zombie Boy was seen as a Tattooed Man at the Carnival. Following, he was again discovered by Marc Quinn, in Bromont, Quebec, where Zombie Boy was working the sideshow at Carnivàle Lune Bleue during the Summer of 2010.