Sweeping Death gives free rein to their fantasy
Can there be anything better for a band than launching a promising debut album?
Can there be anything more convincing for lovers of original and sophisticated progressive metal than In Lucid?
The clear as well as the only correct answer give Sweeping Death with much fervor and passion!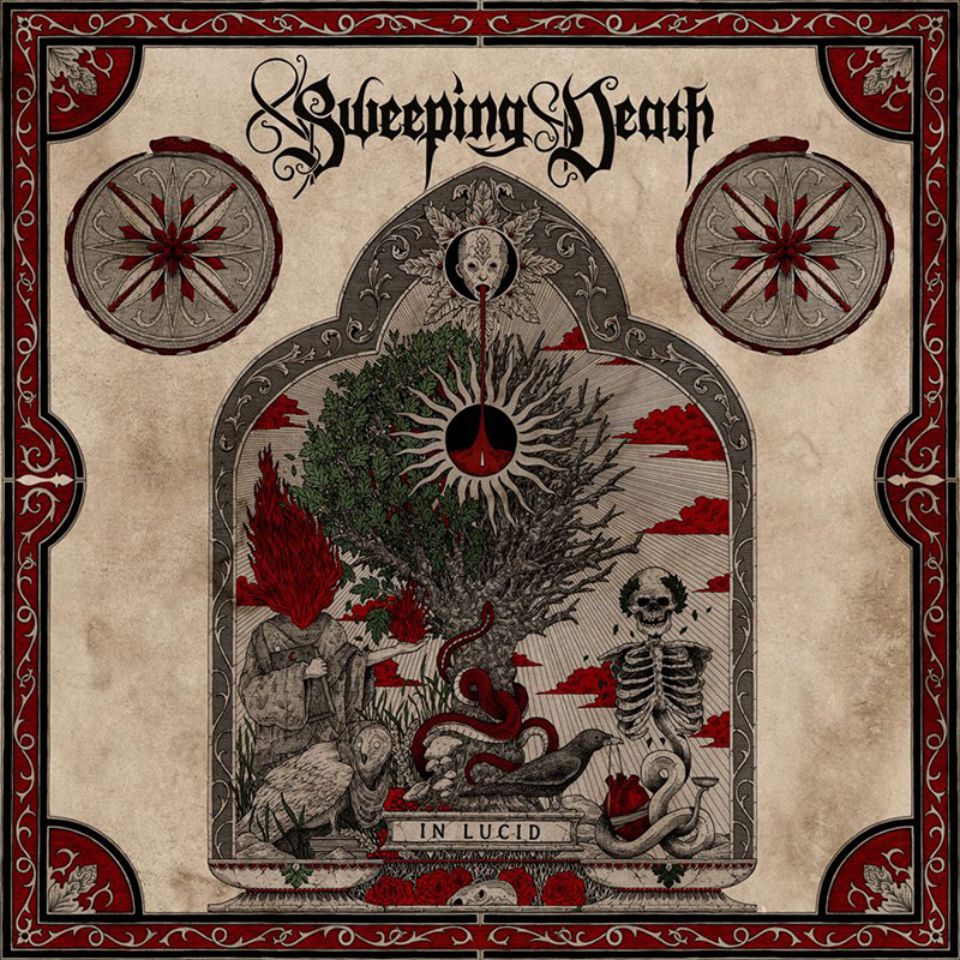 While the visionary formation from the Bavarian town of Wildsteig was already able to set a bold exclamation point in the matter of Potent Newcomer Hopefuls with the previous EP Astoria, the fit all-round talents with their new album provide an almost electrifying level of tension and far-reaching fascination.
After all, virtuosically interpreted, uplifting influences from the world of classical music found their way into the multi-faceted compositions, which also brings with it a wealth of unspent, fresh melodies on "In Lucid".
The individually created long-player can already join with the remarkably coherent opener "Blues Funeral" in the upper ranks of the genre. All songs breathe this creative, hungry spirit for authentically transformed innovation.
TRACK LIST
01. Eulogue 01:08
02. Blues Funeral 05:41
03. Horror Infernal 04:11
04. Suicide Of A Chiromantist 09:53
05. Purpose (Instrumental) 03:37
06. Resonanz 06:09
07. Antitecture 04:25
08. Lucid Sin 07:47
09. Stratus 05:59
The equally capable as well as optimally rehearsed musicians around exceptional singer Elias' Eli' Witzigmann shoot a gigantic firework of imaginative enthusiasm in the scene.
While many artists in the genre strive to create something organic, understandable and above all timeless, Sweeping Death gives free rein to their fantasy and imagination and let on In Lucid everything sound like from one single source.
Diverse acoustic passages, relaxing until evocative, tempting to dream and revel repeatedly, serves the quintet in the midst of a well-dosed, metallic basic hardness as an excellent leveling contrast serial.
By means of jagged-sparkling Thrash interactions the Bavarians enrich the sophisticated numbers quite intuitively, if individual sections of mood sheets require it – and this is guarantee for a variety of agile, dynamic and surprising moments.
Drummer Tobias Kasper convinces with the right instinct for dynamics and supports the multi-layered compositions with the necessary pressure. His influences, which is also especially inspired by the grand masters of noble classical music, and an above-average talent, brought Kasper a profound understanding of music over the years.
Thus, the tact-secure allrounder participated as actively as productive in the songwriting for In Lucid. As an impressive keyboard virtuoso, he refines the compositions with elegant piano passages, which can give the whole thing a touch of eternity again and again.
Bassist Andreas Bertl emphasizes the arrangement with a clever mix of fast runs and accentuated melodies. Even the high-class guitar work together with finely thought-out harmony solos from the pen of guitar duo Markus Heilmeier and Simon Bertl should make it easy for the creators to make the breakthrough with "In Lucid" on the whole line.
Thus, this work as a whole is reminiscent of the glories of eternal icons such as Fates Warning and Psychotic Waltz, in order to wander into the past. At the same time, however, SWEEPING DEATH also brings many associations to Opeth's intoxicating magic moments in order to be able to see into their own future. (Markus Eck)
SWEEPING DEATH OFFICIAL