Sleep Signals have announced that they will return to the road
Minneapolis, MN-based rockers Sleep Signals have announced that they will return to the road on the Fireproof Tour, which begins September 7th at The Keg in Lincoln, Nebraska and concludes on October 20th. The band will also be playing the Break the Silence Festival in Fort Morgan, CO on September 8th.
In addition the band has announced a tour that quickly follows with Atreyu, Memphis May Fire, and Ice Nine Kills that kicks off on November 9th in Phoenix, Arizona and concludes on December 13th in Anaheim, California.
Tickets and VIP for the tour are available here
Minneapolis hard rock quintet, Sleep Signals, have garnered a dedicated following through relentless touring, their explosive live performances, and their ability to blend catchy hooks with their high-energy songwriting style.
2018 promises to be a huge year for Sleep Signals, which has the band on tour through most of the year supporting their new album, At the End of the World. The album was produced by Grammy-nominated Justin Rimer (Saving Abel, 12 Stones) and features guest appearances from Marty Mccoy of Bobaflex and Josh Brown of Full Devil Jacket.
Founded in 2014, Sleep Signals hit the road in early 2015 and has since played over 200 shows in 36 states, sharing the stage with bands like Seether, In Flames, Saving Abel, Bobaflex, Ill Nino, The Dillinger Escape Plan, Every Time I Die, Alesana, and Volumes.
The band has also played several festivals including Northern Invasion, SXSW, and Heart of Texas Rockfest, supporting bands like Soundgarden, Godsmack, and Bush.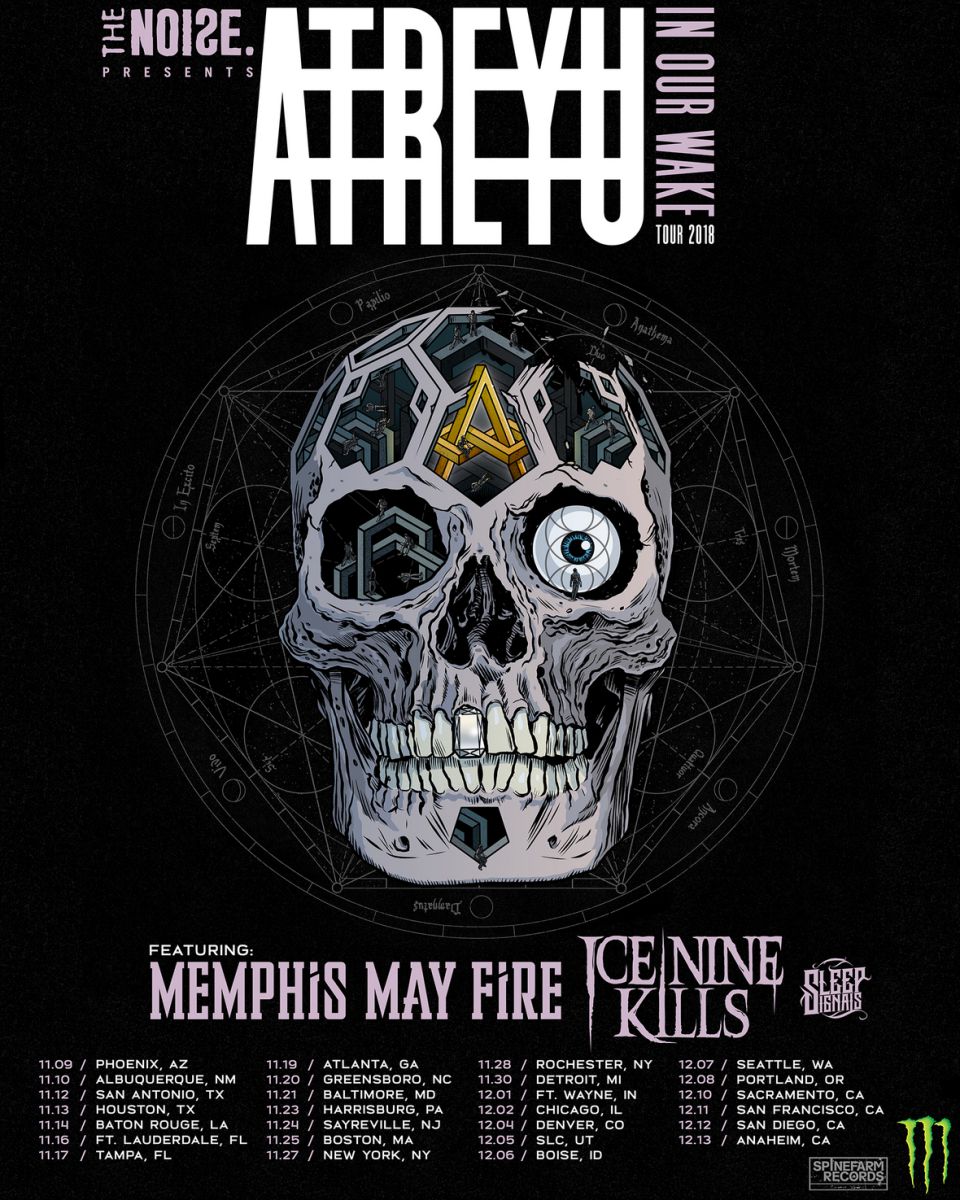 FIREPROOF TOUR DATES
9.07 Lincoln, NE The Keg
9.08 Fort Morgan, CO Break the Silence Festival
9.09 Colorado Springs, CO Rocks Sports Bar
9.11 Laramie, WY Ruffed Up Duck
9.12 Salt Lake City, UT Liquid Joes
9.13 Ogden, UT Funk N Dive
9.14 Logan, UT Eagles 3114
9.15 Jerome, ID Diamondz Event Center
9.18 Spokane, WA The Pin
9.20 Tacoma, WA The Valley
9.21 Portland, OR Paris Theater
9.22 Medford, OR Howiee's on Front
9.23 Klamath Falls, OR Yesterday's Plaza
9.24 Anderson, CA Firehouse Lounge
9.26 Reno, NV Jub Jub's Thirst Parlor
9.27 Pacifica, CA Winters Tavern
9.28 Modesto, CA The Other Place
9.29 Pomona, CA PBW
9.30 Fresno, CA Full Circle Brewery
10.2 Las Vegas, NV Legends Bar
10.3 San Diego, CA The Merrow
10.4 Los Angeles, CA 5 Star Bar
10.5 Yucca Valley, CA Gadi's
10.6 Cottonwood, AZ The Main Stage
10.8 Scottsdale, AZ The Rogue Bar
10.9 El Paso, TX The Perch
10.10 Lovington, NM Lovington Youth Center
10.11 Abilene, TX The Zone
10.12 San Angelo, TX The Deadhorse
10.13 McAllen, TX Yerberia Cultura
10.14 Corpus Christi, TX Boozerz
10.15 San Marcos, TX The Morgue
10.17 Tulsa, OK The Vanguard
10.18 Fort Smith, AR Hero's
10.19 Kansas City, MO Aftershock
10.20 Des Moines, IA Lefty's
Dates with Atreyu, Memphis May Fire and Ice Nine Kills
11.9 Phoenix, AZ The Van Buren
11.10 Albuquerque, NM El Rey Theater
11.12 San Antonio, TX The Aztec Theatre
11.13 Houston, TX House of Blues
11.14 Baton Rouge, LA The Varsity Theater
11.16 Fort Lauderdale, FL Revolution Live
11.17 Tampa, FL The Ritz
11.19 Atlanta, GA Buckhead Theater
11.20 Greensboro, NC The Cone Denim Entertainment Center
11.21 Baltimore, MD Baltimore Sound Stage
11.23 Harrisburg, PA Capitol Room
11.24 Sayreville, NJ Starland Ballroom
11.25 Boston, MA Paradise
11.27 New York, NY Gramercy Theatre
11.28 Rochester, NY Anthology
11.30 Detroit, MI Majestic Theatre
12.1 Fort Wayne, IN Pierre's
12.2 Chicago, IL House of Blues
12.4 Denver, CO Summit Music Hall
12.5 Salt Lake City, UT The Depot
12.6 Boise, ID The Knitting Factory
12.7 Seattle, WA El Corazon
12.8 Portland, OR Hawthorne Theatre
12.10 Sacramento, CA Ace of Spades
12.11 San Francisco, CA The Fillmore
12.12 San Diego, CA House of Blues
12.13 Anaheim, CA House of Blues
SLEEP SIGNALS OFFICIAL