Relentlessly raw all-female thrash metal
Brazil's meanest power trio have returned. NERVOSA indulge in relentlessly raw all-female thrash metal on their second studio album "Agony" that almost effortlessly merges the energy of the glorious 80's with the refined aggression of this millennium.
Played even more on point and precise than debut "Victim of yourself" from 2014, it definitely enriches the NERVOSA sound having transferred the production to the USA: the South American riff tornado is in flawless shape!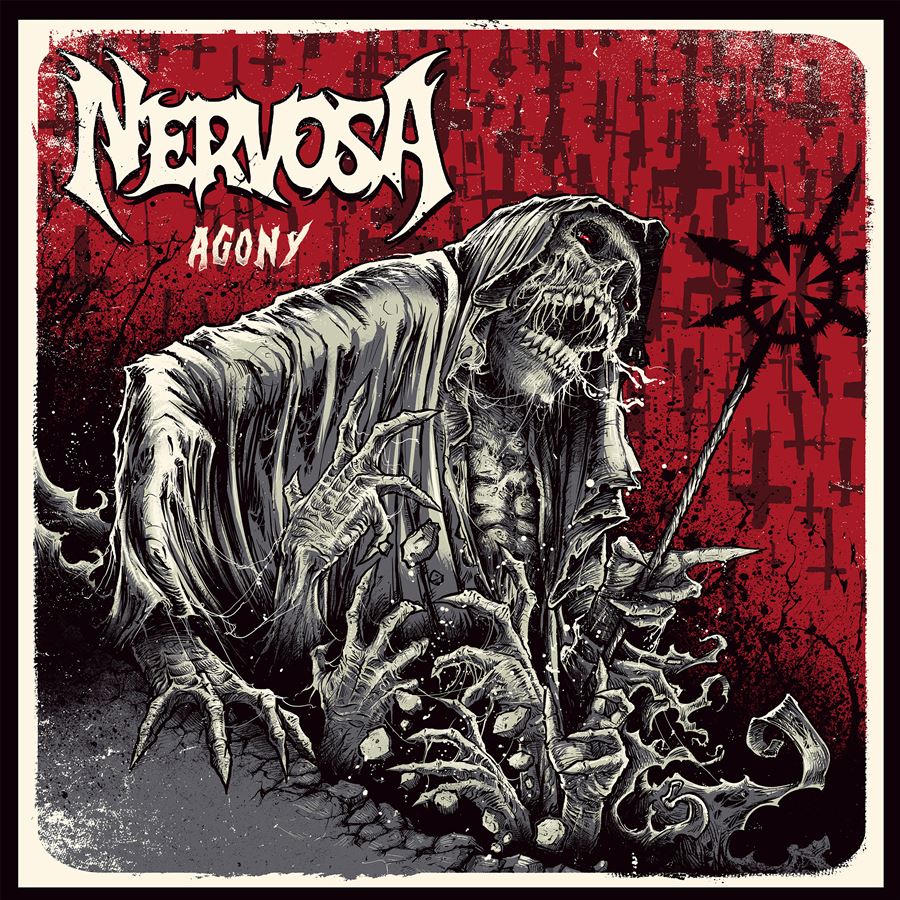 Nods to Kreator, Slayer etc really are just the tip of the iceberg here, and the Brazilian squad continues to drag its fans down into a malicious maelstrom full of old school darkness…
NERVOSA on Facebook
NERVOSA official website
Headlining Tour
03.06.16 NL – Tilburg / Little Devil
04.06.16 BE – Erpe-Mere / Summerrock Festival
05.06.16 NL – Gorinchem / Stichting PoGo
07.06.16 BL – Liege / Smile Café
08.06.16 UK – London / The Def
15.06.16 DE – Hamburg / Bambi Galore
16.06.16 DE – Berlin / Sage Club
03.07.16 FI – Helsinki / Tuska Festival
06.07.16 DE – Magdeburg / Flower Power
08.07.16 DE – Geiselwind / Out & Loud Festival
09.07.16 DE – Nordheim / Sunstorm Festival
15.07.16 CH – Bôle / ParaBôle Festival
16.07.16 IT – Somma Lombardo / Rock Inn Somma Festival
18.07.16 ES – Madrid / Gruta 77
19.07.16 ES – Sevilla / Sala Fanatic
20.07.16 ES – Valencia / Rock City
21.07.16 ES – Barcelona / Boveda
24.07.16 DE – Weil am Rhein / Baden in Blut Metal Open Air
Tour with DESTRUCTION
15.09.16 CH – Pratteln / Z7
16.09.16 DE – Munich / Backstage
17.09.16 IT – Brescia / Circolo Colony
18.09.16 DE – Ludwigsburg / Rockfabrik
21.09.16 FR – Strasbourg / La Laiterie
22.09.16 FR – Grenoble / La Belle Electrique
23.09.16 FR – Marseille / Le Moulin
24.09.16 FR – Toulouse / Metronum
25.09.16 ES – Barcelona / Razz2
27.09.16 ES – Sevilla / Custom
28.09.16 PT – Lisabon / RCA Club
29.09.16 PT – Porto / Hard Club
30.09.16 ES – Madrid / Arena
01.10.16 ES – Bilbao / Santana 27
02.10.16 FR – Paris / La Machine
04.10.16 UK – Glasgow / Audio
05.10.16 IR -Dublin / Voodoo Lounge
06.10.16 UK – Manchester / Club Academy
07.10.16 UK – London / Underworld
08.10.16 NL – Rjissen / Lucky
09.10.16 NL – Drachten / Iduna
11.10.16 CZ – Prag / Storm Club
12.10.16 DE – Nürnberg / Hirsch
13.10.16 DE – Siegburg / Kubana
14.10.16 AT – Dornbirn / Conrad Sohm
15.10.16 BE – Hasselt / Muziekodroom
16.10.16 DE – Mannheim / 7er Club