Impellitteri continue to carry the torch for guitar driven heavy metal
The IMPELLITTERI band create a mind blowing, highly energetic, and thrilling new musical adventure with "THE NATURE OF THE BEAST". The band is on fire with their musical acrobatics, addictive riffs, shredding guitar solos, speed metal drumming, bad ass bass playing, and vocals reminiscent of DIO, Dickinson, Pavarotti, and Halford in their prime, all embedded in great songs!
With so many great metal bands fading away into the sunset IMPELLITTERI continue to carry the torch for guitar driven heavy metal that feature powerful operatic vocals, anthem style choruses, and brilliant musicianship.
Chris Impellitteri's guitar playing is majestic. His fretboard wizardry is astonishing, fierce, and influential. All the while Rob Rocks vocal performance is sensational and proves he is one of the most versatile vocalists in metal today. The rhythm section featuring the monstrous bass playing from James Pulli and the bands mind boggling drumming and percussion team create a musical groove that is addictive!
On "The Nature of the Beast" IMPELLITTERI shine on songs like the Dr. Jekyll And Mr.Hyde inspired original song "Do You Think I'm Mad"; the Maiden influenced "Run For Your Life"; the highly energetic remake of Black Sabbath's "Symptoms of the Universe"; the lunacy of "Gates of Hell", the addictive riff of " Hypocrisy", and the speed metal cover of "Phantom of The Opera".
There are 10 new original songs and two covers on this album that take the listener on a musical adventure.
IMPELLITTERI recorded THE NATURE OF THE BEAST in Los Angeles, California with Legendary engineer/ producer Mike Plotnikoff (Van Halen, Aerosmith, In Flames), Mix engineer Greg Reely (Overkill, Fear Factory, IMPELLITTERI) and engineers Jun Murakawa and Sean Shannon.
Like their childhood musical heroes including, Vivaldi, Iron Maiden, Queen, Black Sabbath, Al DiMeola, Paco de Lucia, John McLaughlin,Pavarotti, IMPELLITTERI strive for greatness — creating, performing, and recording this new music with all four band members contributing equally.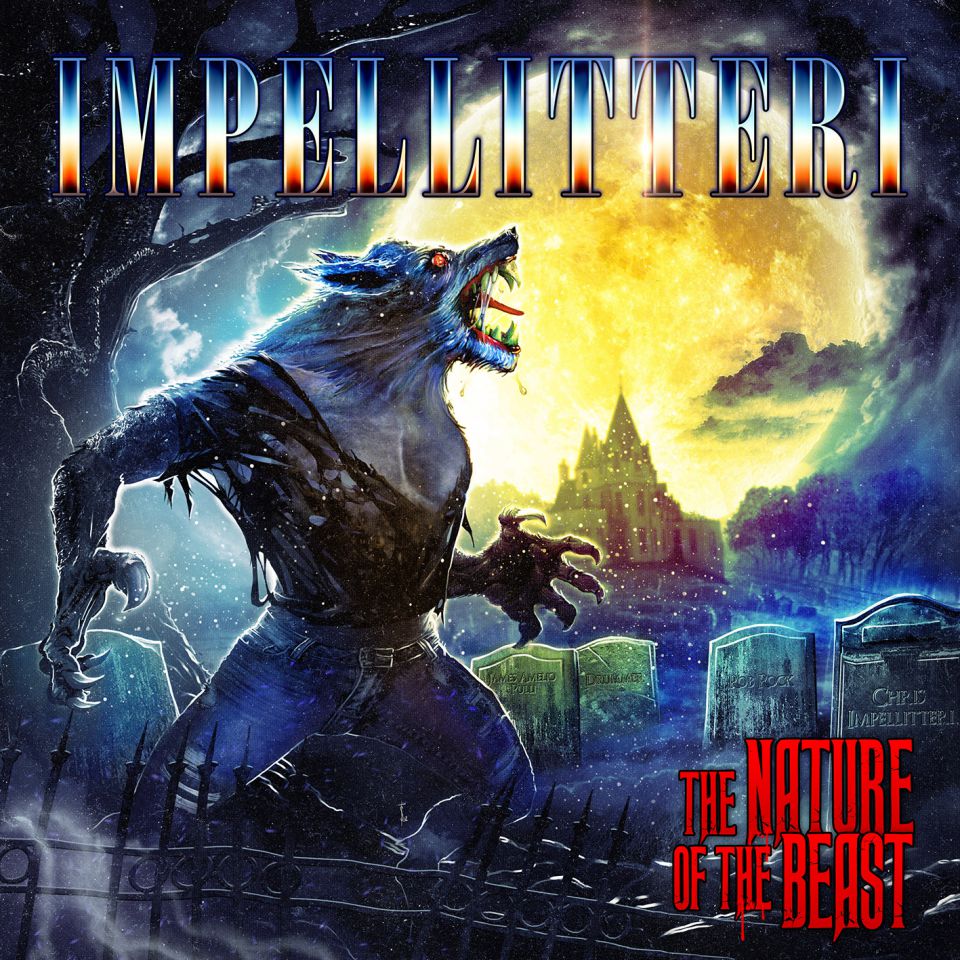 The band recorded this new record in a grand fashion using major studios with large tracking rooms and vintage Analog equipment to capture the bands live musical energy and performance!
The band members including guitarist Chris Impellitteri, Vocalist Rob Rock, Bassist James Pulli, and drummers / percussionists Jon Dette and Phil T worked tirelessly, writing, rehearsing, and performing in and out of the studio for over a year to create this new record!
We look forward to seeing IMPELLITTERI bring THE NATURE OF THE BEAST tour to there fans around the world as the band is known for being a great live act for those lucky enough to have seen them so far!
And so the adventure begins!
TRACK LISTING
01. Hypocrisy
02. Masquerade
03. Run For Your Life
04. Phantom Of The Opera
05. Gates Of Hell
06. Wonder World
07. Man Of War
08. Symptom Of The Universe
09. Do You Think I'm Mad
10. Fire It Up
11. Kill The Beast
12. Shine On
Produced by IMPELLITTERI and Greg Reely.
IMPELLITTERI LINE-UP
Chris Impellitteri – Lead Guitar
Rob Rock – Lead Vocals
James Pulli – Bass
Jon Dette – Drums
IMPELLITTERI OFFICIAL