HOUSE OF BROKEN PROMISES have announced their return to the Old Continent
Indio, CA's stoner metal veterans HOUSE OF BROKEN PROMISES have announced their return to the Old Continent, with a full European tour and a new EP coming this fall.
Heavy/Stoner rock trio from Indio, California HOPB is back with their new "Twisted" EP, which features two unreleased covers (Black Sabbath and Billy Squire) plus a bunch of outtakes and live songs for a total of 30 minutes of heavy music.
The former Unida musicians reiterate their successful formula with Mike Cancino's powerful drumming, guitarist and producer Arthur Seay's wall of riffs, and Joe More wonderful John Garcia-esque vocals.
"Twisted" was recorded at Arthur Seay's studio in Indio, near the Joshua Tree area who inspired so many stoner/desert rock bands. Artwork was designed by Italian artist and HPS favorite Solo Macello.
HOUSE OF BROKEN PROMISES new EP "Twisted" is out October 6th on Heavy Psych Sounds Records. Presale start September 1st at this location.

HOUSE OF BROKEN PROMISES EUROPEAN TOUR
29.09.2017 IT Pescara – Scumm
30.09.2017 IT Savona – Raindogs
01.10.2017 IT Parma
02.10.2017 IT Zerobranco – Altroquando
03.10.2017 IT Milan
04.10.2017 FR Chambery – Le Brin Du Zinc
05.10.2017 FR Montpellier – The Black Sheep
06.10.2017 SP Barcelona – Monasterio
07.10.2017 SP Madrid
08.10.2017 SP Santiago De Compostela – Sala Moon
10.10.2017 SP Gijon – Sala Acapulco
11.10.2017 SP Bilbao – Wombat
12.10.2017 SP Saragoza or San Sebastian
13.10.2017 FR Nantes – La Scene Michelet
14.10.2017 BE Antwerp – Desertfest
16.10.2017 DE Koln – Lime*
17.10.2017 DE Munster – Rare Shop Guitar*
18.10.2017 DE Bielefeld – Potemkin*
19.10.2017 CH Basel – Hirschneck*
20.10.2017DE Frankfurt – Yachtklub*
21.10.2017 DE Munich – Keep It Low*
22.10.2017 AT Salzburg – Rockhouse*
24.10.2017 DE Wien – Viper Room*
25.10.2017 DE Dresden – Chemofabrik*
26.10.2017 DE Erfurt – Tiko*
27.10.2017 CH Olten – Coq D'Or*
28.10.2017 DE Siegen – Vortex*
* Dates with Black Bone
HOUSE OF BROKEN PROMISES is an Indio, CA based Desert/Stoner metal band consisting of guitarist Arthur Seay (Unida, ApeSh!t), bassist/vocalist Joe Mora (HDR, Street Drugs DTLA, The Addicts) and drummer Mike Cancino (Unida, Lynch Mob).
Formed on the ashes of Unida (which also featured Kyuss legend John Garcia), this hectic trio is a pure shot of classic hard rock, stoner rock and metal. With their Small Stone Records debut "Using the Useless", this trio led the charge in a more refined stoner metal approach than the standard stoner rock sound of similar scene bands.
HOPB incorporates bombastic drum beats with guttural vocals and downtuned guitars, with lyrical themes dealing with social instability, political corruption, the dangers of drug abuse and apocalyptic prophecies.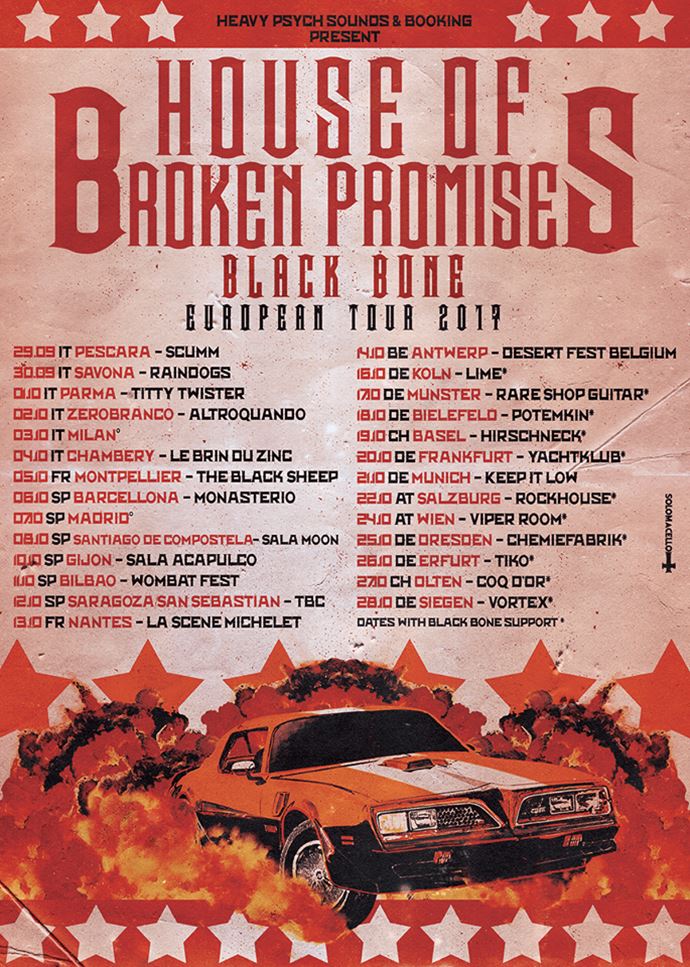 After two European tours and performances at Hellfest, Desertfest London, Berlin and Athens, the band has signed on Heavy Psych Sounds Records for the release of their new EP "Twisted" and the booking of an extensive tour of 30 shows starting September 29th, 2017.
HOUSE OF BROKEN PROMISES line-up
Arthur Seay – Guitars
Joe Mora – Bass and Vocals
Mike Cancino – Drums