Fable Cry EXCLUSIVE interview
Give us a brief history of the bands younger years, how come you guys got interested in the scamp rock music and how did the band form? I (Zach) started the band back in 2010 with my sister to put all of the things I enjoyed doing under one wacky umbrella: theatre, performance, film, story telling, and visual art and express it all through music that took familiar elements from several genres and slapped them together to create something (hopefully) unique.
What is Theatrical Scamp rock? Our music is hard to pin down, exactly. So we made up a genre title that would help explain some of what we do, but also garner curiosity. The music explains the genre, and the genre explains the music. Consequently, you may need both to comprehend the other.
Has Fable Cry been on any European or U.S. tours? If not then when will we get to see you in Europe and the U.S.? We've toured from coast to coast, North and South in the states, but have never been to Europe. We definitely plan on changing that!
You've got a very interesting visual approach to music. Describe to us your show, visually and musically. We pride ourselves in our live shows. Essentially, we're inspired by our own favorite bands/shows, and want to create something that is fun and leaves people entertained. We dress up, put on the makeup, tell stories between songs, encourage crowd participation, and give it hell until we're blue in the face.
At our bigger shows we bring puppeers, dancers, jugglers, and a variety of others to help add to the visual spectacle. The albums and the videos are undoubtedly important elements, but performing live is my favorite part of what we do.
Tell us about your musical and non-musical influences? We all have a variety of influences individually. The bands/musicians I've always enjoyed are the ones who who make interesting, catchy music, and also see the importance of esthetics and artistic entertainment: David Bowie, Prince, Alice Cooper, Rammstein, Iron Maiden, Ghost, Michael Jackson, Queen, Lady Gaga, Tom Waits, Misfits, Foxy Shazam, and Oingo Boingo, just to name a few.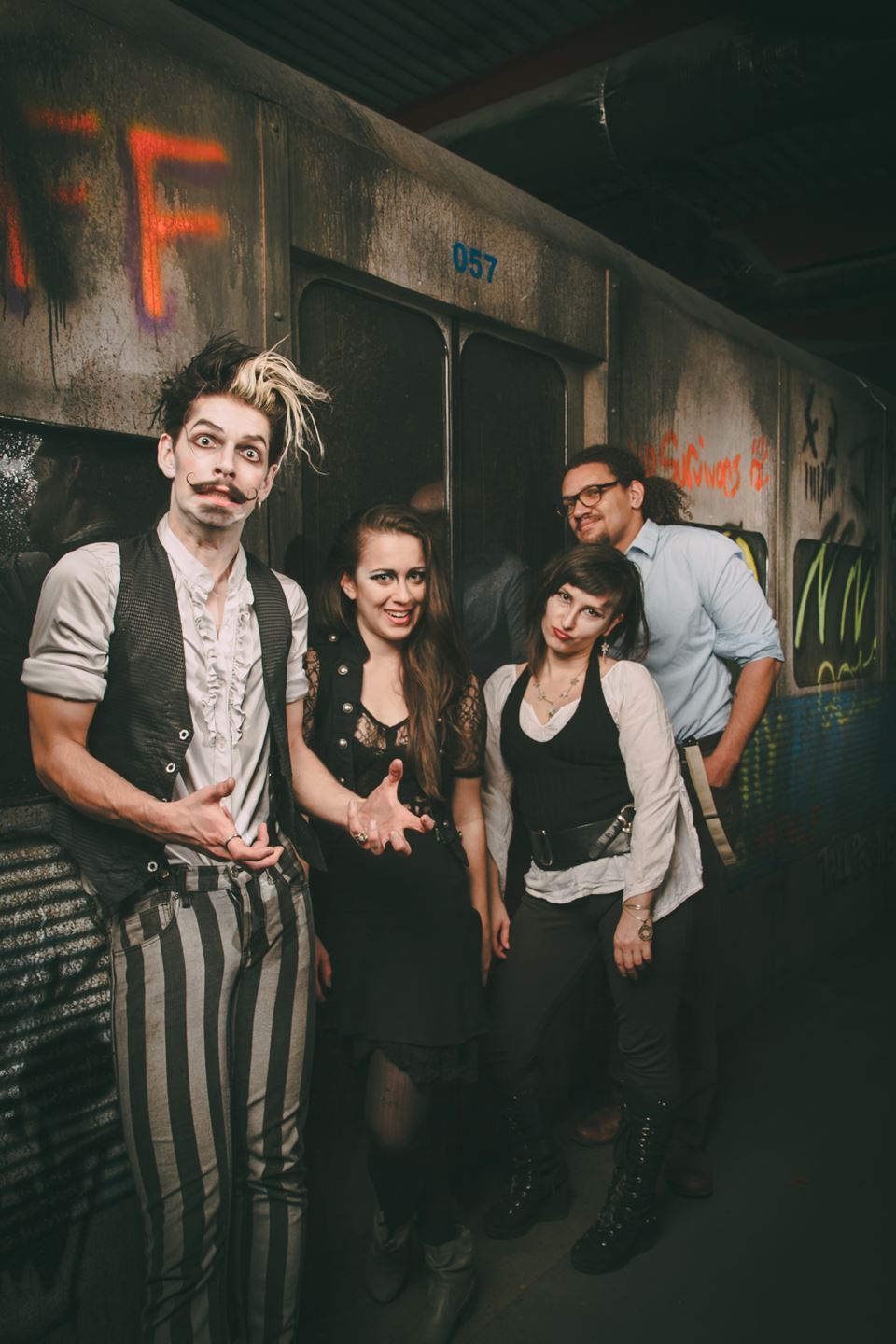 What inspires you to do what you do? Just about everything worth doing takes work. I just don't want to do anything else badly enough to work on as hard as I do this band. It's therapeutic and gratifying in so many ways. I don't know what I would do or where I would be if I didn't have music in my life, and the idea that we might be bringing some of that same solidarity and enjoyment to others is an amazing feeling.
Tell us about the funniest thing that has happened to you on your gigs or tours? My own bandmates are some of the funniest people I know. We always have stupid amounts of fun, being ridiculous with each other and others around us. Basically, everything that happens is the funniest… at least to us!
A desolate island and a boat without gas, Who do you want to be rescued by? David Hasselhoff, because I think riding on his back back to a safe shore seems like the perfect end to a terrible adventure — or visa versa.
FABLE CRY line-up
Zach Ferrin – Vocals, guitar
Jo Cleary – Violin, vocals
Scott Fernandez – Bass
Nic Giordano – Drums