Desertfest London returns for its eighth year
Following the biggest year to date, Desertfest London returns for its eighth year. As the 2018 line-up encompassed some of the most legendary and diverse acts the festival has ever seen, with Napalm Death, Hawkwind and Monster Magnet, to name just a few – the bar has been raised and the stakes are even higher for the UK's best stoner rock & doom festival to pull out all the stops once again. So, with that Desertfest are set to reveal the first seven acts who will be making up the 2019 edition of the festival, which will be taking over the streets of Camden Town in a smoke-filled haze throughout the May bank holiday weekend.
One of the most exciting, genre bending bands of recent time, ALL THEM WITCHES dark blues sound is one that has given the four-piece a reputation few could ever dream of. The Nashville natives take their deep Southern groove and effortless straddle the fence of psychedelia, blues and hard rock with unrivalled precision. Their live performance etched its way into our memory like few who have come before them, so we are beyond excited to share their musical genius at Desertfest; ALL THEM WITCHES are forging their own path and we highly recommend jumping on the journey, because it's definitely going somewhere special.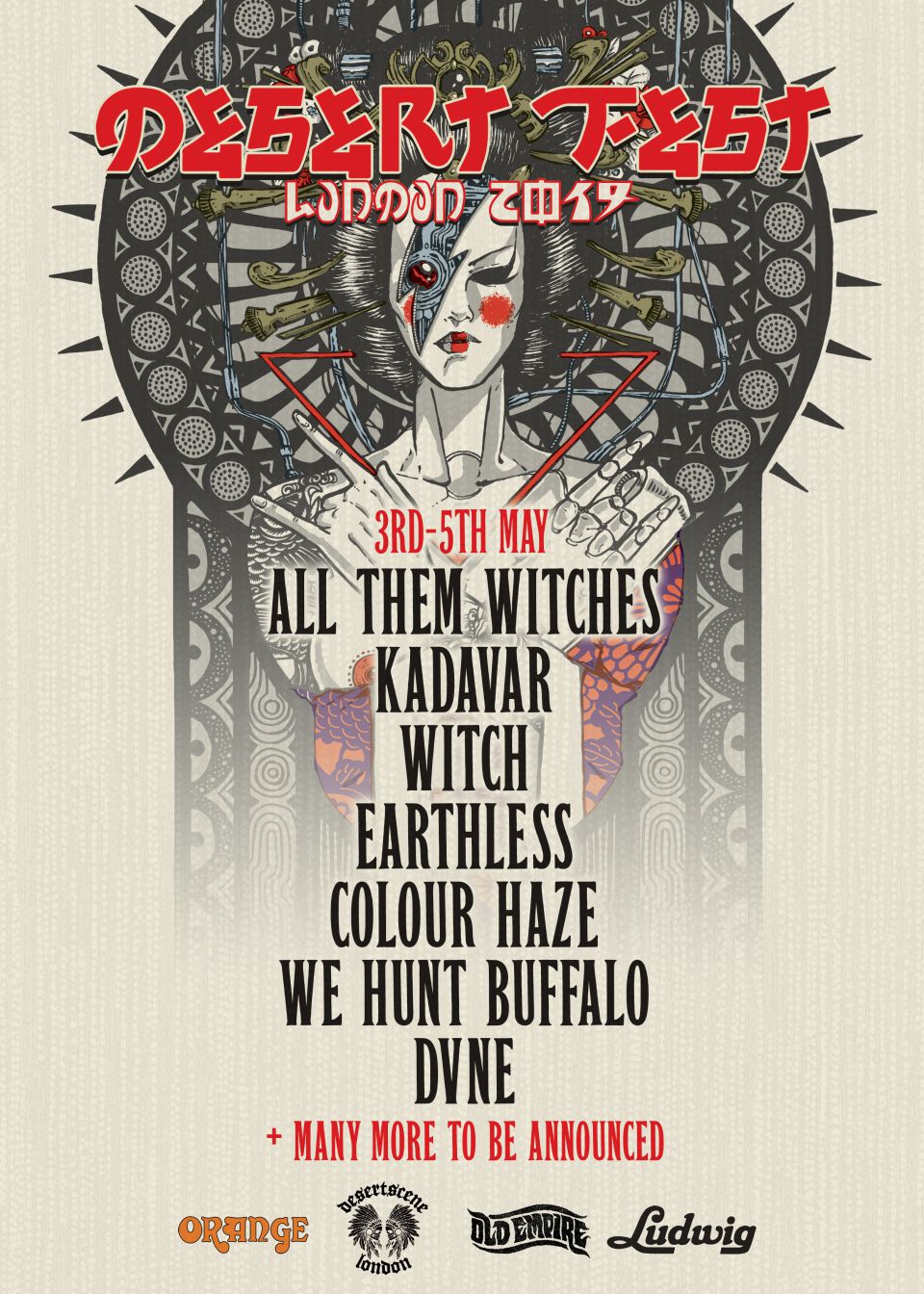 An extremely welcome return to Desertfest since their performance way back in 2013 is the mighty KADAVAR. One of our favourite bands to get down with, these Berlin rockers bring out the boogie like a jammin' beast that just got out of its cage.
A retro revival with the power of a ten-tonne truck, KADAVAR shared the following about being asked to join the DF weekend once again: "We're very excited to return London next year as part of an amazing line up! It has been a while now. We will be bringing new songs to the island and look forward to partying with you!! See you soon!"
Iconic doom quartet WITCH will bring its Sabbath-come-Zeppelin-influenced hard rock sounds to British shores for the first time in over a decade at Desertfest 2019. With Dinosaur Jr's very own J. Mascis at the rhythmic and creative helm, music industry maverick and bass master Dave Sweetapple, Kyle Thomas on vocals and Graham Clise on guitar, their self-titled debut album struck its cords deep into the heart of the doom scene. Desertfest are truly honoured to be playing host to the return of WITCH, the band have released some of the most hook-heavy songs of the modern age and despite rarely playing live, their seminal stoner rock sound will be a performance to remember.
Desertfest are extremely excited to welcome psych-pioneers EARTHLESS to the festival for the very first time. The San Diego based trio have recently pushed things to a new level with their latest offering 'Black Heaven'. EARTHLESS are an undeniably mind-melting force to be reckoned with and have been a long-awaited band for the Desertfest bill, drummer Mario Rubacala shares: 'Hello Desert "feasters" Earthless will be making our way out to you all for Desertfest next year! Delighted to make some noise for you all and add to the musical feast! See you there!'
COLOUR HAZE will also be joining the 2019 proceedings, with one of the most incredible psychedelic light shows accompanying their perfectly tripped-out sound. Plus on the bill will be Vancouver fuzz lovers WE HUNT BUFFALO, whose brand of prog-minded fuzz rock has been stampeding out of amps and trampling audiences since 2010 plus Edinburgh's melodic sludge monsters DVNE.
Desertfest London 2019 3-5th May in Camden Town, London. Tickets on sale here.
DESERTFEST OFFICIAL
Desertfest Official Website | Desertfest Facebook | Desertfest Twitter | Desertfest Instagram