DEGREED is a Stockholm based Melodic Hard rock band formed in the beginning of 2005
"I remember one night in central Stockholm, at Harry B. James, a couple of years back. Me and Jimmy Jay, a bit drunk, RAN — in boots, all the way from H.B.J. to Stockholm City just to catch the train to make it back to Väsby in time to see DEGREED at Rockbaren — R.I.P!
That explains how much I appreciate this band. Their debut album is one of the best i've heard in years and they have really developed an original sound. Great melodies and hooks mixed with energetic riffs and virtous solos! Do I have to go on?" — Jona Tee
"Please put a vote on us over at Rocknytt Top 20! You can vote once a day and we'd love to make it to the top. Please spread the word" — Robin
DEGREED is a Stockholm based Melodic Hard rock band formed in the beginning of 2005.
Before DEGREED even released their first album they managed to tour Scandinavia and Germany, getting sponsored by legendary brands like Hagström and T-Rex, share stage with greats like Europe, Turbonegro, Millencolin among others and represent one of the largest musical instrument distributors in Europe – Musik Meyer on the largest public music fair in the world back in 2007.
After many years of touring and gaining fans the band released their critically acclaimed debut album "life,love,loss" in the fall of 2010 through Melodic Rock Records — Europe and USA, Spinning INC — Japan, and Rambo & Sony Music Entertainment — Sweden, which was followed by a tour in Sweden and a UK tour alongside VEGA.
"…this first DEGREED album could well become THE album of the year!" — Gabor, MyGlobalMind.com, 9/10 stars, Nov. 2010.
Having recorded the first album with producer Erik Lidbom the band choose the easy way on the second studio album "We Don't Belong", having him to produce that one as well.
Although on "We Don't Belong" Erik also wrote and co-wrote a few songs for the album, among them two together with multi platinum and Grammy Award winning singer and songwriter Bill Champlin — former singer of Chicago, songwriter for Earth, Wind and Fire etc.
Bill Champlin sang on the Chicago nr.1 hit "Look Away" as well as singles "You're Not Alone" and "Hard Habit to Break". On the second album by degreed Bill sings a verse in the song "In For The Ride". Erik is also the best selling songwriter in Japan with over 16 million sold copies of the work he has done.
"We Don't Belong" was released on the 2nd of September 2013 and already that month it made "Album of the Month" in the 157th issue of British Powerplay Magazine. By the end of 2013 the album had received great reviews and also "Album of the Year" by Mårten Cederberg at Rocknytt.net.
The single "What If" from the album has reached over 30 000 plays on Spotify and the video for the song as well as the video for the second single "Inside of Me" have reached over 25 000 views on YouTube.
"We Don't Belong" is a near perfect slice of modern melodic rock which proves the future of the genre is very healthy. I was totally blown away by it and can't stop playing it — I could get really fanatical about these guys." — The Midlands Rock, Aug 10 – 2013, 10/10.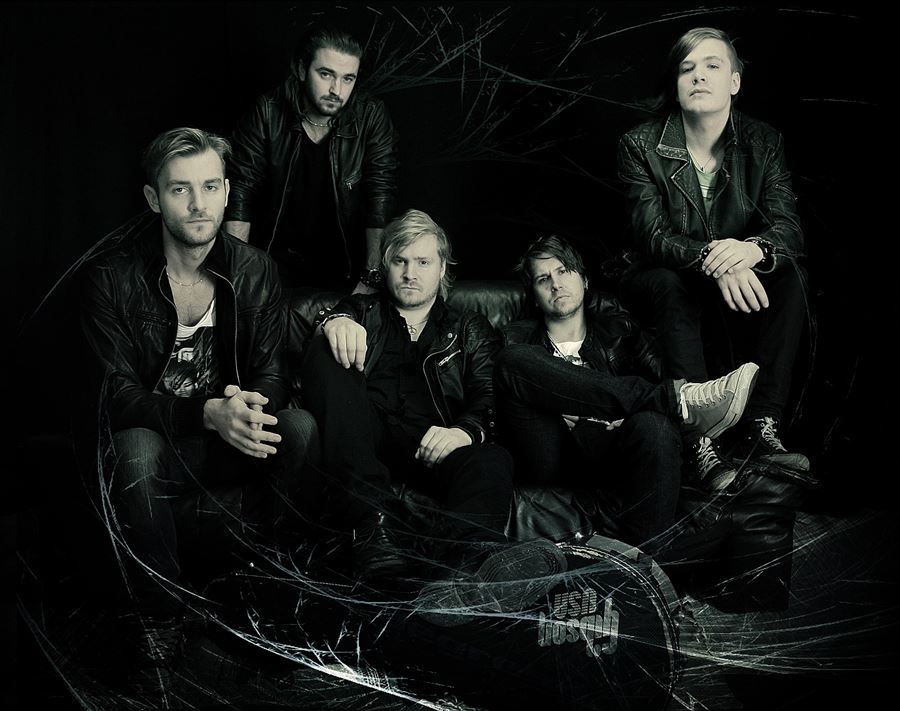 In 2014 the band signed a management deal with Sun Hill Production and has since then been opening shows for Dan Reed Network on their shows in Sweden 2014, played Väsby Rock Festival and Special Guests at the Swedish Sid-Metal band Machine Supremacy's European tour 2014 which took the band to countries like Poland, Czech Republic and Germany.
The band just got back from a UK tour along with Australian White Widow and British Night by Night and have just finished the upcoming album "Dead But Not Forgotten" which was released July 19th through Sun Hill Production and the album has gotten great response all over the world. Along with the album release the band also released a video for the opening track "The Scam" which got featured in Classic Rock Magazine's "Track of the Week" #31 with the following motivation;
"We've always had a soft spot for songs that start with a "Let's Go!" followed by a "Woo!", and The Scam features both. It's a youthful, zesty hunk of melodic hard rock with some clear classic rock influences, and just the kind of thing you'd expect from Sweden, where children are expected to engage with melodic hard rock from a very early age."
Its a new, more powerful DEGREED than ever and they're more than ready to take on the world!
Read the exclusive interview with DEGREED in the Azaria Magazine No.10.