ART NATION is trying to have that combination
A few weeks before this interview occurred I came across some really good and catchy tunes, that I just had to play on repeat. Turned out it was a band on "strongly up and coming". Of course I had to find out more about them.
You go under the genre AOR, Album Oriented Rock. Is that a suitable label for your music, you think? Actually I try to get away from that expression as much as possible. I'm not a fan of that label although I love that kind of music, but I think it can be almost dangerous to put a label on your own music. It's kind of stupid to say "that music is of a certain label".
I think it's better to just get people to listen if they like it or not, and then they can label it as they want. If it's hard-rock, pop-rock, AOR or metal. I think as an artist, the most important thing is to create music that is fun and sticks to your head.
Would you say that your sound is right in time? That's really hard to say because the business changes all the time. Right now it feels like people are into melodic rock music that is fun to dance to and I also think the visual is very important. Everything from music videos to concerts, you want them to feast your eye as well as your ears.
Art Nation is trying to have that combination. We're not that classic hard rock band in leather clothing trying to be cool. It's more about a bunch of good guys and their love for music wanting the crowd to like what we're doing. That's the most important thing.
You made one album named "Revolution" Do you feel that you're still creating "The Art Nation sound"? Yes, you're right. We're still experimenting, get the feel of each other, song material and so on. It's hard to say, just from making one album together to exactly point out how we really sound. When we're sitting down writing on our next album of course it's gonna sound Art Nation.
We're still the same members, it's my voice and it's gonna sound melodic, but I think everything's gaining maturity with time, especially as we're still so young and new. I think the next album will be more full-blown, so to speak and much more well-worked as we have greater opportunities this time.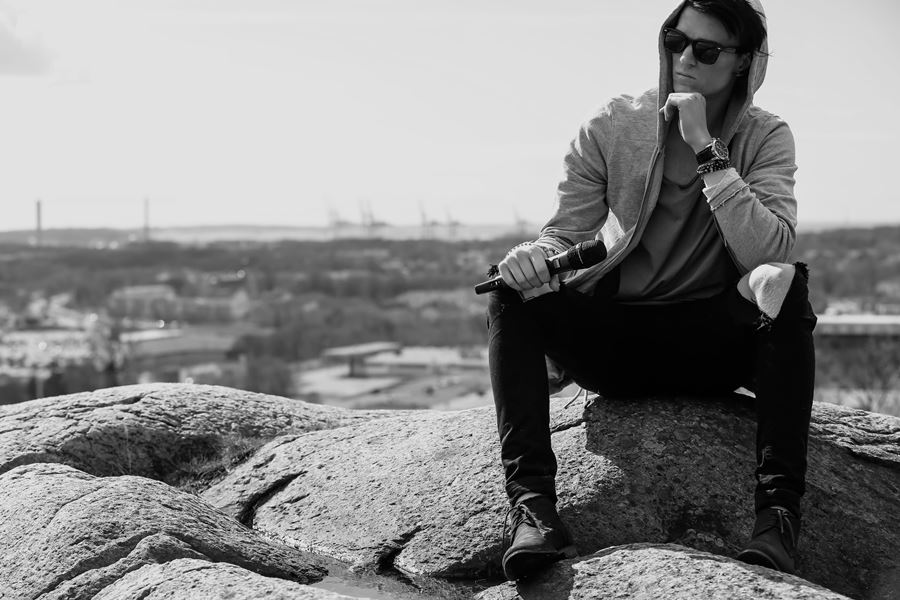 You entered the Idol audition for Sweden 2014. Your thoughts about that? I've always tried to believe that "All publicity is good publicity". You have to be featured everywhere and tell that you exist. To me it was mostly a fun thing to do and to see where it could lead to.
I've always liked the commercial establishment. I like the "Eurovision song contest" I like "Idol" and I simply like entertainment. I think it's fun and that's also what I want to be, a good entertainer, that more than the worlds best musician.
It's more important that people want to watch our concerts. I'd rather have Lisa 9 years say to her dad "I wanna go see those guys because of the happiness and catchy tunes you can sing and dance to" than all the nerds in music industry gonna say "wow what a skillful guitarist or what a great singer" In other words I like to find a mix in all this. Without selling your soul to publicity, but if you combine the commercial aspects I think it's a great tool.
The jury of Idol turned you down do you think they regret it? The case with TV is they make the cuts and angles they want. I knew they thought I was really good and we continued the cooperation afterwards. I did get some really good contacts due to the participation and I was also voted the best Idol Audition in Gothenburg on their website.
It was not like I went from there and was sorry. Also I'm very single-minded about what I want. I'd probably hadn't been able to be guided by them in the end, but if I could get some people who thought about me and what I do, then it was worth it, and I got it after all so I thought it was great fun although it ended as quickly as it started.
My purpose is so much bigger. I am a dreamer and have no limits when it comes to how much I want to succeed, how far I want to take the band but I think that's the whole charm of life that there is no one who can say to me I can not achieve my dreams, it's just me who decides where I want to set the limit.
I can admit that I get a little hubris at times when things go well for the band, and we've had an incredible success but it is important to keep your feet on the ground but still have this confidence to believe in what I do. I believe in my band. In barely two years we've taken a huge step with a lot of gigs in the back and lots of different types of sponsorship deals and now record contract with Gain and Sony Music Entertainment so that's really a blast!
As you just mentioned, you got a freshly signed deal with Gain and Sony Music Entertainment, what does it mean in the long run? Yes, they had been watching us for a while and found that we were unique in that we are so focused and ambitious. I must say we got a dream record deal for being such a new band and it feels so incredibly amazing that they believe in us so much.
We've already started writing new material and we'll soon sit down and start preparing pre-production for the next album and start recording all the songs we have. It is the main focus. Together with the continuing of booking gigs of course.
Who's producing your next album? Producer will be the same as the last album, Jakob Herrmann from Top Floor Studios along with Jacob Hansen who has worked with Amaranthe, Volbeat and Pretty Maids among others.
Art Nation live, what can the audience expect from you? We run on a lot of energy, joy and love. It's an important concept, I think that when you go up on stage you wanna show the audience that you are doing something you enjoy and the atmosphere gets so much better. We make happy music so of course we're gonna be happy.
— Alexander Strandell Of Art Nation
Art Nation line-up
Alexander Strandell – Vocals
Christoffer Borg – Guitars
Johan Gustavsson – Guitars
Simon Gudmundsson – Bass
Carl Tudén – Drums