All-female rock quartet DOLL SKIN are confirmed for the ShipRocked Cruise 2016
Arizona based all-female rock quartet DOLL SKIN are confirmed for the ShipRocked Cruise 2016. DOLL SKIN will be performing onboard the ShipRocked Cruise, sailing January 18-22, 2016, from Miami to Costa Maya, Mexico. Alongside bands like Five Finger Death Punch, Seether, Halestorm, Hellyeah and Helmet just to name a few.
DOLL SKIN just entered the CMJ Loud Rock Chart at #34. Their new EP "In Your Face" was released in North America on October 30 and will be out in Europe due on December 18, physical and digital via EMP Label Group and Cargo Records. "In Your Face" was produced by David Ellefson — Megadeth and mixed by Ryan Greene — NOFX, Cheap Trick, Lita Ford.
Due on December 18 in Europe, "In Your Face" features the following tracks:
1. Family Of Strangers
2. Wring Me Out
3. Let's Be Honest
4. Blind
5. So Much Nothing
6. Weatherman (live)
Formed in Arizona in 2013, DOLL SKIN's members — vocalist Sydney Dolezal (15), guitarist Alex Snowden (16), bassist Nicole Rich (17), and drummer Meghan Herring (19) — met while attending the Scottsdale School of Rock.
Meghan made the initial connection when bringing the girls together to compete in Rock Revelation Battle Of The Bands. After catching the attention of Ellefson, who was one of the competition's judges, the band began a sonic assault on the West Coast, playing shows with SOCIAL DISTORTION, GREEN JELLO, D.R.I., SLUNT and many more, through Arizona, California, and the West Coast.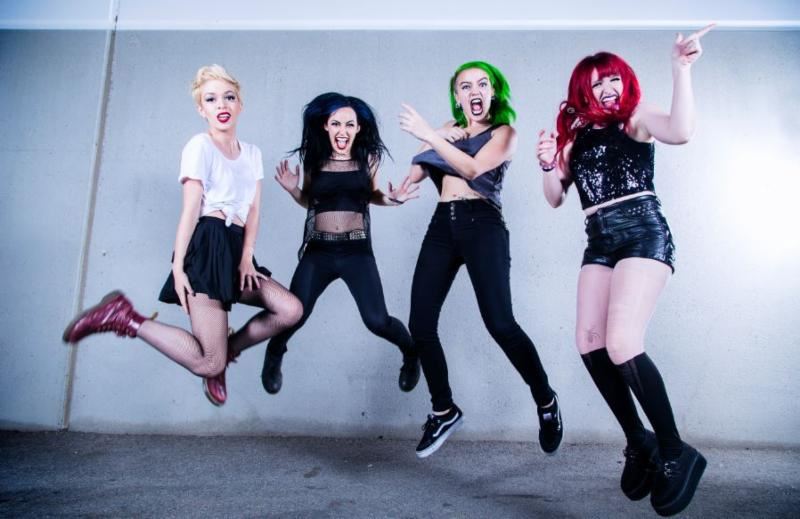 "It's refreshing to hear a young band like DOLL SKIN carrying the torch of classic punk rock." — Greg Hetson, Circle Jerks and Bad Religion.
"Hardly classic punk rock, but infectious alterno rock nonetheless. Throw this EP up in the air and it will fall somewhere between the Bob Rock-produced Veruca Salt and Cherri Bomb." — Gaz Tidey, Über Röck.
DOLL SKIN Tour Dates
December 11, 2015 | Doll Skin @ Last Exit Live (Phoenix, AZ, USA)
January 18-22, 2016 | Doll Skin @ ShipRocked Cruise, Miami to Costa Maya, Mexico