The Death Do Us Part Danger show
The Death Do Us Part Danger show are a husband and wife knife-throwing duo from the UK. They specialize in taking traditional circus knife-throwing stunts from the days of old and bringing them to modern audiences. Charlie Atlas, an angry Scotsman is the thrower and his English wife Rachel, herself a sword-swallower, is his target.
If knives alone were not dangerous enough sometimes he throws knives that are on fire, sometimes Rachel swallows swords whilst the knives are being thrown, and sometimes he even throws axes! They have performed in over 11 countries on 3 continents, at music festivals, tattoo conventions and cabaret shows worldwide.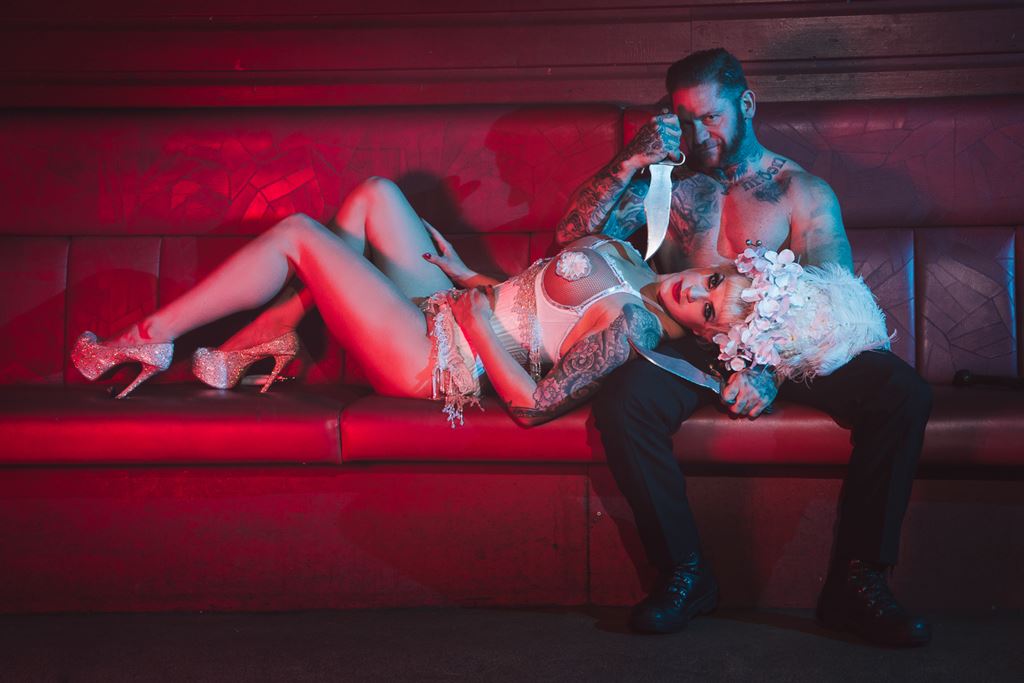 You really seem like two daredevils. Have you both been since childhood? Charlie: Always since I was a kid. Even though I only got into this sort of performing in the last few years I've always loved knives and weapons.
I studied various martial arts and street fighting throughout the years so have always liked training with discipline, but also danger!
Rachel: Not at all, I'm a massive wimp! I did a lot of theater as a child so was used to be onstage but definitely not a daredevil, I never even learnt to ride a bicycle as it was too scary, I'm 35 and still can't!
How come knife- throwing became your specialty, Charlie? It came to me really easy. We wanted more sideshow acts and Rachel suggested we try a knife-throwing act as there's not many people doing them these days. I found throwing knives came really naturally, I am very disciplined and have very good co ordination so it felt right from the start.
I progressed from throwing at the board to throwing at my wife pretty quickly, and apart from feeling a little nervous we both really enjoyed it, it's quite a buzz.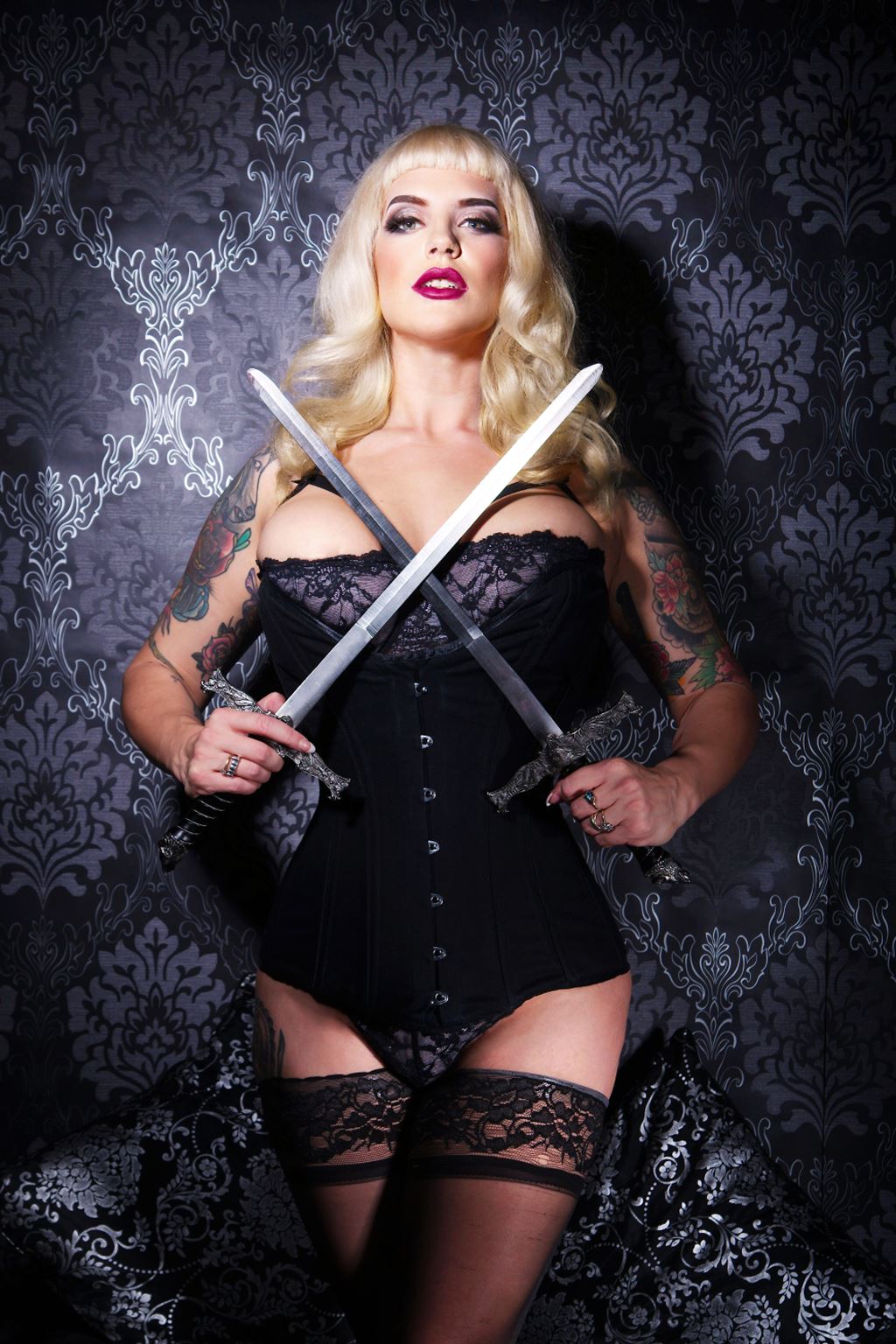 How come sword swallowing became your specialty, Rachel? I was already doing a lot of circus sideshow acts like bed of nails and walking on broken glass, but for me sword-swallowing was the ultimate as there are still relatively few people, particularly females who do it as it is pretty unpleasant and difficult to learn.
To me it's the ultimate way of amazing an audience, it really is making what looks impossible happen before their very eyes.
Where do you learn stuff like this, cause I guess you didn't have those classes in school? We are entirely self taught, anything is possible if you train hard and have enough determination. We have picked up some hints and tips from fellow performers along the way but most of what we do is learnt through trial and error.
A lot of the knife stunts we do are not performed by other people as we have literally invented them.
Is knife-throwing something you have to rehearse everyday in order to maintain the skills? Charlie: In order to keep up the accuracy and be seriously shit hot at it you need to try and train everyday.
Obviously there are days and time's when that's not possible but if I have a show then for the safety and the life of my wife I need to put in a lot of practice in the days leading up.
How do you build up the confidence between you two, that I can imagine must be there for letting someone throw knifes at you, And also to be the one responsible to throw them? Rachel: It's funny, we still have a video of one of the first times he threw knives at me, and I really wasn't very nervous! When it comes to physical things Charlie is a really extraordinary person, he has such skill and I have such faith in him.
There are other things I don't trust him with, like money! But the trust with the knives has always been there.
I think if you didn't have full confidence in the person throwing at you, the experience would be scary and unpleasant. But for me it's one of the most amazing things we do together.
Charlie: I am very lucky in that Rachel has such trust in me, it increases my confidence and has done since the beginning. If the person you're throwing at is nervous, it makes you nervous.
Rachel is very good at keeping calm and still, which are very important qualities for a target girl.
I think doing this together has made our marriage very strong because we are reaching levels of trust which other couples never dream of.
Coming to one of your shows, what can the audience expect? The audience can expect a thrill-ride like no other. They get to see things done live which they may only ever have experienced in movies. It's like all the thrills of CGI but real.
We often have other performers onstage with us at live shows too, we have an amazing performer called Nikki Leigh who has been instrumental in creating some really thrilling moves where Charlie throws knives at the two girls.
What are your plans for the future? We are about to go to New Zealand for the next few months, Rachel's family live in the mountains there and it is the perfect location for us to train in between travelling to shows.
We will be touring the USA the whole of February and then when we return to the UK we are going to focus on our new act which involves a spinning knife board which will truly be taking us to a new level of danger!