The Azaria Magazine No.13 is now available, get your own copy today
The Azaria Magazine is an international magazine focusing on the alternative lifestyles extreme internationally with focus on fetish, tattooed models, tattoo artists, arts and music.
Azaria Magazine is a magazine with features and interviews of models, music artists, tattoo artists, photographers and much more.
We are a magazine published 12 times a year packed with pure entertainment!
Our main distribution is in Germany, Belgium, The Netherlands, Sweden, Norway, Finland, United Kingdom and the U.S.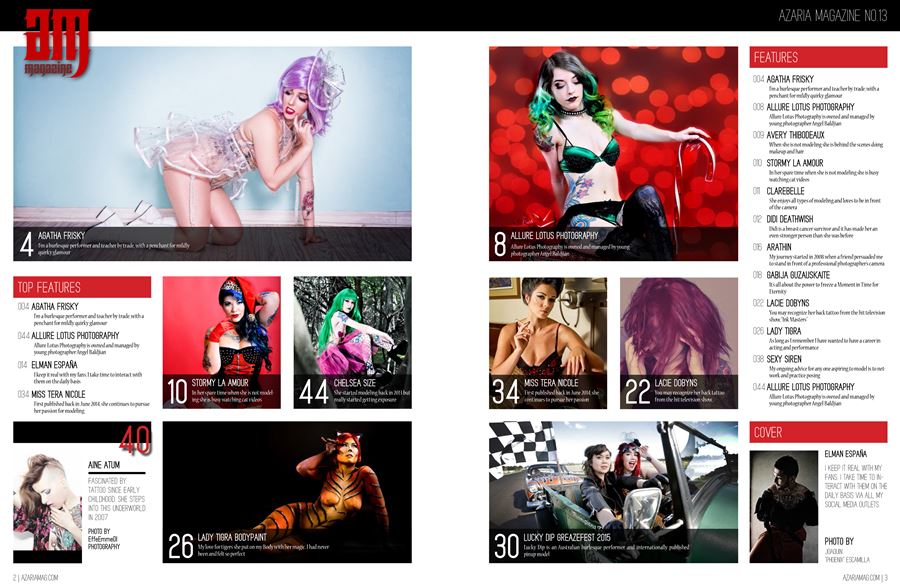 The Azaria Magazine No.13 features articles and interviews with
ELMAN ESPAÑA, AGATHA FRISKY, ALLURE LOTUS PHOTOGRAPHY, AVERY THIBODEAUX, STORMY LA AMOUR, CLAREBELLE, DIDI DEATHWISH, ARATHIN, GABIJA GUZAUSKAITE, LACIE DOBYNS, LADY TIGRA, SEXY SIREN and THOMAS H.P. JERUSALEM.
Buy the Azaria Magazine No.13 in both print and digital download. All major credit cards accepted. Shipping world-wide.