Orissa drop their "Verse V" lyric video from their latest album
(New York, NY) Progressive/cinematic rock project, Orissa, drop their "Verse V" lyric video from their latest album, Resurrection (November 2016).
The album received rave features from Alternative Press, Prog Sphere, Metal Nexus, Guitar World, among other tastemaker blogs, and now, Orissa welcomes a eye-catching video that breathes life into the album, "that defies routine mundane labeling as it blazes its own fusion-derived trail." (Riff Relevant) Orissa "has conquered their own unique style and release music that stands out in today's scene." (Metal Nexus)
Central figure, songwriter and instrumentalist, David Dodini explains:
"I was reading an ancient, sacred text that describes the art of dying. It is effectively a manual describing how to navigate the realms the soul encounters after death. I was struck with an insight that for me its wisdom could serve as a guide to the art of living while here in the human body."
Dodini continues: "I feel that I have been given a gift as an insightful articulator and channel of wisdom. So I resolved to create my own verse – to create and state my vow for how I choose to live. I set it to song so that anyone who resonates with the music and words may sing it with equal resolve and make it a part of their credo to live in inspiration, not in fear.
The lyrics are presented on what I call the, "cosmic parchment." It is meant to depict the spiritual significance of the text and its relevance to the unbounded energy of the human soul. They are presented in entire stanzas so the reader may digest and contemplate their significance.
Fear, doubt and rejection frequently haunt the roads that are forged when following the heart. The symbolism and imagery in the video are used to create a conscious narrative that depicts that struggle. It shows moments of awakening, the revelations of the heart and its inspirations, and the consequences of following the path of fear and the rewards of forging the path with courage and inspiration.
I served as the creative director. I developed the concepts for the imagery and the narrative. Mladen Pajdic did all of the element design, compositing, animations and rendering. It was a remarkable effort given this project has the scope and complexity that typically requires a mid-size studio."
Mixed by Sahaj Ticotin, (RA; Meytal Cohen; Adekain; September Mourning) and mastered by Paul Logus, (Stone Sour; Steel Panther; Shadows Fall) the LP showcases, "progressive metal that demonstrates remarkable mastery." (Codifiers) Dodini, graduated with honors from the San Francisco Conservatory of Music and completed his masters at the Biella Conservatory's Scuola Niccolo Paganini in Biella, Italy. Orissa's live band is a roster of NYC's finest musicians from Trans Siberian Orchestra, Neal Morse Band, Stratospheerius, Book Of Mormon, Dyed In Grey, Haakons Fault, Emergence and Astronaut Down.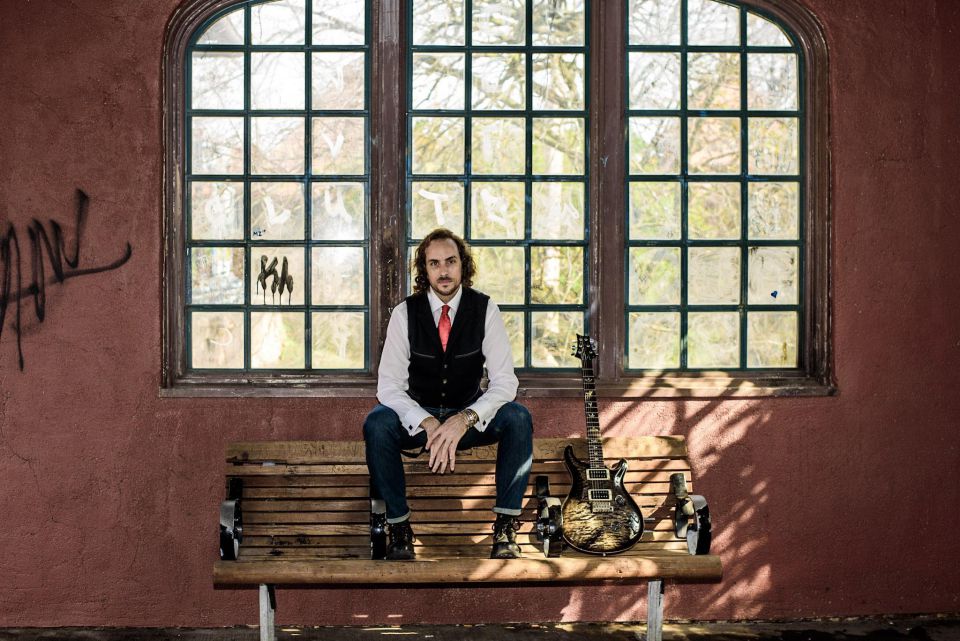 Orissa was created in 2010 by Dodini, a virtuoso singer, guitarist and bassist, who writes, arranges and performs all the parts on Orissa's records. Born out the of desire to explore inner creative space and create a distinctive, cathartic, deeply personal and therapeutic art, Dodini abandoned the strictly classical background and delved into his own songwriting, fusing his classical training with his love for jazz, balkan and other ancient rhythmic traditions; these styles translated into Dodini's immersion into metal and progressive music, as the genres carry numerous parallels. Orissa released its debut EP, Omens in 2012; on which Dodini played all the instruments and was backed by Dan Walsh (drums).
Omens was mixed by Stacey O'Dell, (Killcode, Panzie, Awaken), and mastered by Chris Muth of Taloowa. Orissa launched two additional singles in 2013 as, The Musical Offering. They were mixed and mastered by Patrick Derivaz, (Jon Scofield, Jeff Buckley, Meshell Ndegeocello), and released to support a Kickstarter Campaign.
In turn, the Kickstarter raised over $20K to fund the upcoming album, Resurrection, which features Dodini's vocal and instrumental arrangements and performances as well as drummer Jason Gianni, (Trans Siberian Orchestra, Neal Morse, Book Of Mormon).
In 2016, Orissa brought the music from the studio to the stage when Dodini attracted the best musicians from NYC's progressive, metal and rock communities.
Stay tuned for more announcements from Orissa, including a number of new videos from Resurrection. Soundcrave Magazine declares, "this is more than just metal. I hope the world is ready for this."
ORISSA OFFICIAL