Nikki Maria – I would best describe my work as diverse
My name is Nikki Maria I am a half Portuguese 22 year old from the West Midlands.
I spent the first few years of my life living in Portugal and still visit regularly now It always feels like going home Aside from modelling I also sing and have been since the age of 11. I have taken part in a number of competitions and reached the finals each time. Although I do not gig it is another passion of mine. My hobbies are going to the gym and attending heavy metal gigs. Music is a big part of my life and I could not live without it. I would say I live for the summer and download festival.
I am a huge animal lover especially of cats (Yes I am a crazy cat lady) and most people will know this as my social media accounts tend to be full of my furry baby's I'm also huge on movies especially when it comes to horror and pretty much anything with Liam Neeson. My look is very alternative heavily tattooed, pierced and bright hair. My tattoos and piercings are still ongoing, still a lot of places on my body I wish to tattoo, I guess I am starting to dislike my plain skin.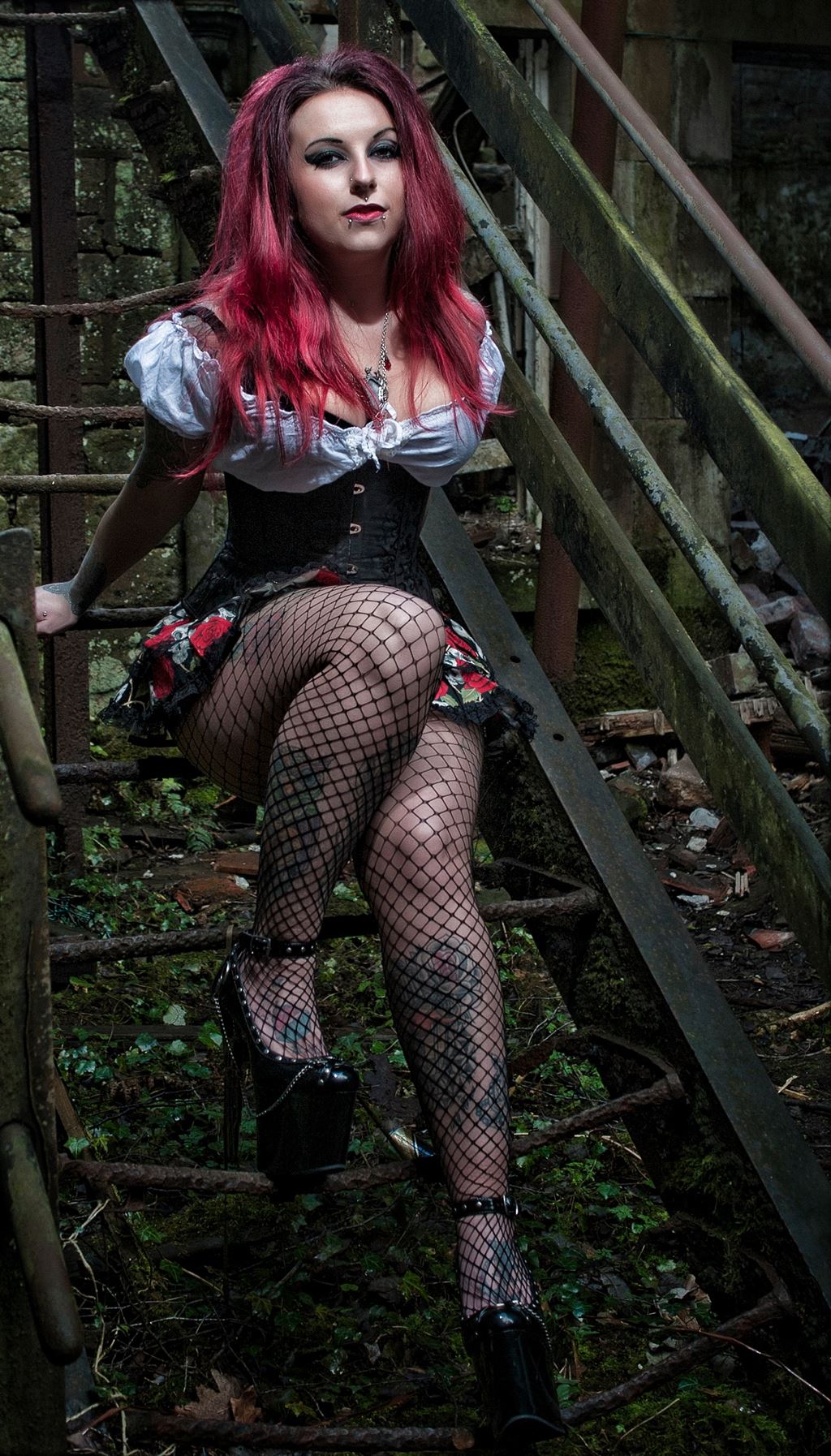 My back piece tattoo would certainly be my favorite done by the very talented Dan Mountford at Ultimate Art Tattoo Studio (Sutton Coldfield) My favorite color is black and I tend to look I am attending a funeral daily I also work part time in Retail but hope to one day be a professional piercer. I only recently plucked up the courage to model after wanting to do it for so many years but not having the confidence.
I have now been modelling 8 months working with fantastic photographers gaining experience knowledge and confidence. It is now my passion. I enjoy all aspects of modelling but particularly enjoy doing horror and Gothic shoots, working in derelict locations is always fun too! I have attended group shoots which I very much enjoy as I love to meet other creatives and have made great friends from attending.
How would you describe your work, and what is your main goal with your work as a model? I would best describe my work as diverse. I am always shooting something different and with very different photographers. My main goal for modelling is to make the cover of magazines and turn this into my full time job.
What are your plans for the future, are there any new and exciting projects you would like to share with us? I do plan to go into piercer as-well as modelling. I have my first feature in Proper Eye Candy magazine coming out soon so that for me is very exciting! I have plans to work with some very amazing photographers on some cool themes too
Tell us about the most valuable moment in your modelling career. My most valuable moment would be being published in my first magazine. It has always been a dream of mine and it is crazy to know I am achieving this.