The Lancaster, PA music scene has definitely had an influence on Carousel Kings
CAROUSEL KINGS have anchored their name as one of the most ambitious and creative rock machines in recent years.
The Lancaster, PA music scene has definitely had an influence on CAROUSEL KINGS – the same town that bred the metal bands August Burns Red, Texas In July, and This Or The Apocalypse.
It gave them the idea that it was possible to be a national act, to go for it. Having grown up there, influenced by heavy bands, but wanting to do something different, CAROUSEL KINGS did just that.
The band wanted to be as poppy as possible but stay true to their roots, keeping the edginess, and the ethic, in place.
While CAROUSEL KINGS was founded by singer David Alexander in 2008, it was a couple of years until this revolving door line-up of friends, playing for camaraderie and fun, started to really focus on the band as a nationally touring act.
The band released their debut album A Slice of Heaven on CI Records in 2012, followed by an EP Road Warrior later that year. CAROUSEL KINGS then recorded a Spanish version, as well as Reggaeton version of the single "Baby" (from A Slice of Heaven).
A couple other EPs and singles followed on CI, and their tenure with the label culminated in the release of the highly celebrated second full-length album Unity in 2014.
Soon thereafter, the CAROUSEL KINGS were truly united with the permanent addition of bassist Cody Williams and New Jersey natives Will Barovick on guitar and Danny Wilkins on drums.
It's been a non-stop road trip for CAROUSEL KINGS as the band toured extensively, performing with Panic! At The Disco, Less Than Jake, Rise Against, City Lights, and the 2015 Vans Warped Tour.
When CAROUSEL KINGS were thinking of a title for album number three, they wanted to find a name that was tranquil, yet matches their glossy popmelodies and arena-sized hooks.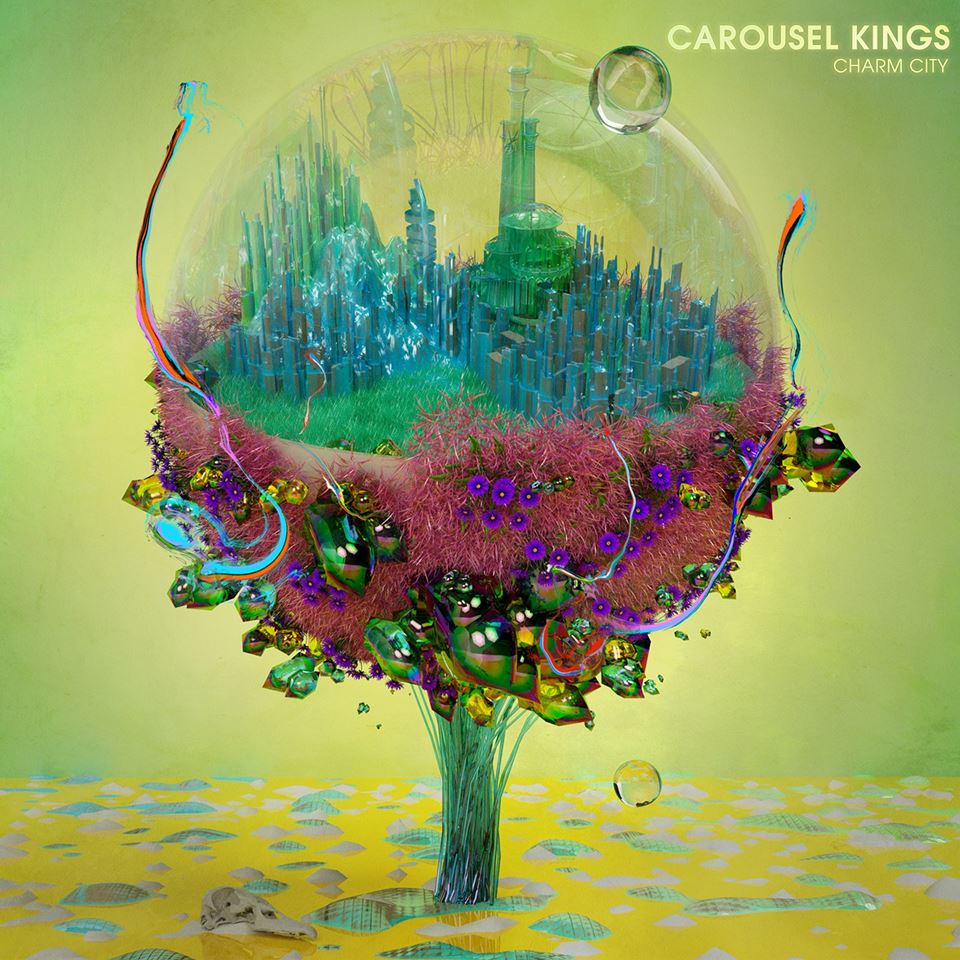 Charm City is about that dream place, a trippy world shared by all, yet unique to the individual. "This is the place where I go in my dreams," says Alexander. "I want to connect the listener to my 'Charm City', and realize that they too can envision and live in their own 'Charm City' whenever they want to."
The concept behind the artwork was envisioned by famed visual designer Archan Nair, known for his collaborations with Kanye West and Lindsay Lohan.
On the album cover, Alexander states, "The idea is a floating emerald city meets Neverland meets Atlantis type place.
A place you always have the urge to go back to because as beautiful as it is, the mystery is forever and it's an everlasting escape. There is only one road to the city, and it's in YOU."
Having recorded nearly every previous piece of CAROUSEL KINGS material, producers Grant McFarland and Carson Slovak were called back to Atrium Audio (Candlebox, August Burns Red) in early 2016 to record Charm City.
August Burns Red bassist/vocalist Dustin Davidson lends his voice on the track "Something Isn't Right."
"We hope this record can connect both on an entertaining, fun level, and also get people thinking outside the box with regards to what it is they can accomplish," admits Alexander. "Anything is possible. Create your own 'Charm City,' and go for it!"
CAROUSEL KINGS line-up
David Alexander – Vocals
Cody Jay Williams – Bass
Will Barovick – Guitar
Danny Wilkins – Drums
Tracklisting
01. Grey Goose
02. Glory Daze
03. Here, Now, Forever
04. Bad Habit
05. Something Isn't Right
06. Hate Me, Love Me
07. Charm City
08. Dynamite
09. Unconditionally
10. Fractals
11. Punch Drunk
12. Fool's Gold
13. You Never Will