Ritualis Aeterna marks the return of progressive power metal band Malacoda
"Ritualis Aeterna marks the return of progressive power metal band Malacoda. Keyboard virtuoso Jonah Weingarten (Pyramaze) has joined forces with the band, adding a new potent weapon to the band's sonic arsenal.
Taking their name from a demon from Dantes Divine Comedy, Malacodas dark gothic vision is indeed divine but no laughing matter.
As band leader Lucas, who studied Literature and Religion at University explains: 'Malacoda was the name of a very minor character in the book, a fallen angel who flies around with a small army of demons torturing helpless souls in Hell.
From a literary perspective, I found it interesting that he wasn't merely an evil creature being tortured for his sins, but was given free reign to do what he pleases and takes it upon himself to torture other wicked souls in the spiritual prison that is Dante's Inferno.
I wanted a powerful name that fit not only the sound of the band but also the lyrical themes I touch upon. I wanted something dark, but not something that would be blatantly devilish sounding. The name translates roughly in Italian to 'Cruel Tail' and most people don't see it and think "this band is named after a demon" and see it as something more romantic sounding.'
"Ritualis Aeterna" is a mix of the band's existing blend of melody and crunch but with an added dose of dark atmosphere. "Ritualis Aeterna" is Malacoda taking their sound to the next level. It's much more than an evolution; it's a rebirth." — Progressive Music Planet
Like the 'Inferno' that inspired their name they forge metal without limits in sonic shapes endless and horrifying in equal measure. Malacoda's music vision shares much in common with Dante's, they are unafraid to gaze into the abyss, unafraid to be inspired by the myriad of human horrors within and without. They are not blind to the worlds within them waiting to be born.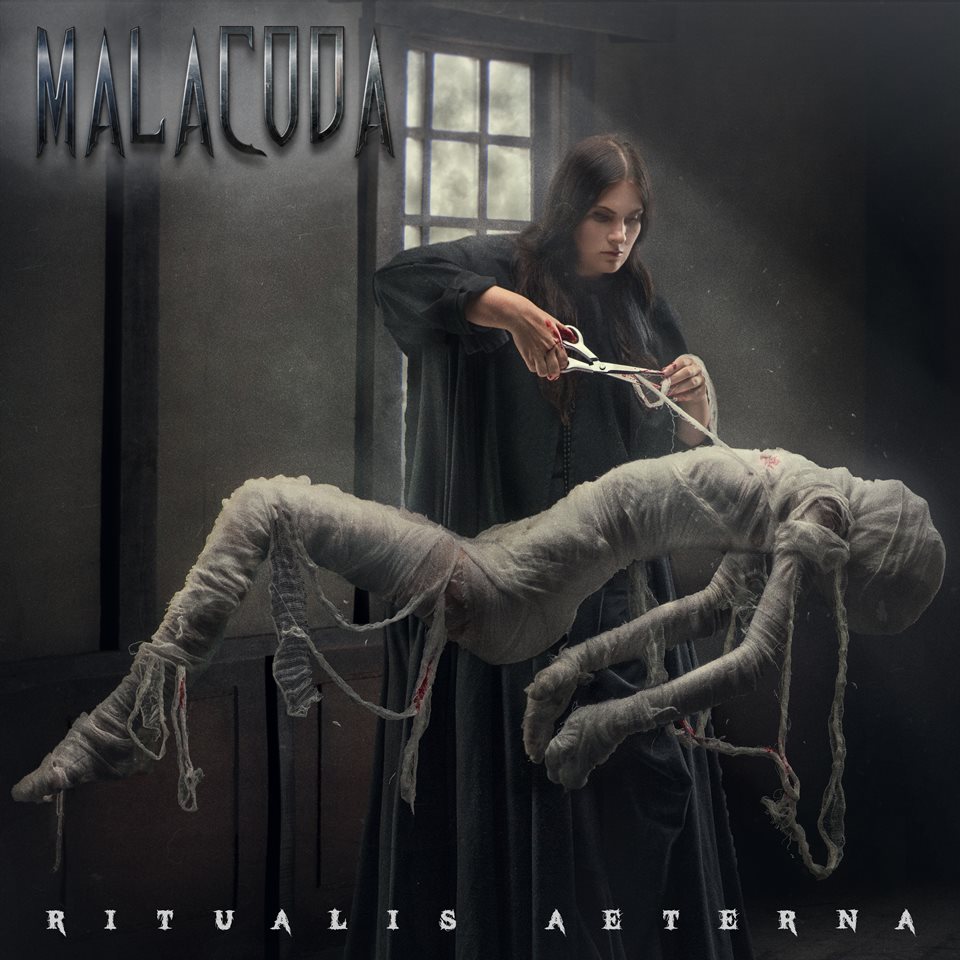 Malacoda are about to follow their well-received self-titled debut with the horror-themed 'Ritualis Aeterna', which enters this world on December 2, 2016. Festive it most certainly isn't, magnificent it certainly is. Full of dark atmosphere, originality and innovation, this is gothic power metal for the 21st century, intelligence and intensity to rival that of their infernal inspirations!
Track listing
1. Penny Dreadful (5:34)
2. I Got A Letter (4:37)
3. Pandemonium (3:39)
4. The Wild Hunt (4:20)
5. Linger Here (2:23)
6. There Will Always Be One (3:47)
Malacoda line-up
Lucas Di Mascio – Vocals, Guitar, Bass
Joe Waller, Jessy Oppenheimer – Guitar Solos on Penny Dreadful
Brad Casarin – All other guitar solos
Mike Harshaw – Drums
Jonah Weingarten – Keyboards
All Songs written by Lucas Di Mascio, except "Linger Here" written by Jonah Weingarten
Produced by Lucas Di Mascio
Mixed by Jon Howard (Threat Signal)
Mastered by Jeramie Kling
Album Band line-up
Lucas Di Mascio – Vocals/Bass/Rhythm Guitar
Jessy Oppenheimer – Guitar Solo on Penny Dreadful
Joe Waller – Guitar Solo on Penny Dreadful
Brad Casarin – Lead Guitar
Mike Harshaw – Drums
Jonah Weingarten Keyboards
Live Band line-up
Lucas Di Mascio – Vocals
Brad Casarin – Guitar
Mike Harshaw – Drums
Jonah Weingarten – Keyboards
Cooper Seldon – Bass
Discography
2016 – Ritualis Aeterna – EP
2014 – S/T – LP
Artist Endorsements
Paiste, Yamaha, Los Cabos & Tama
Official website | Facebook | Twitter | Instagram | YouTube